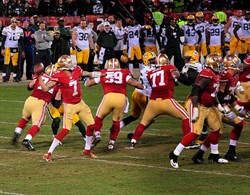 San Francisco, CA (PRWEB) August 21, 2013
Bay Area ticket broker Top Notch Seats is excited to announce that they are now selling San Francisco 49ers tickets to each and every home and away game on the 2013 schedule.
Northern California is home to millions of 49er fans, and for the many more outside of the Golden State, there has never been a better season to make a trip to San Francisco and Candlestick Park. The iconic locale on the edge of the Bay is playing host to its final season for the San Francisco 49ers before it will be unceremoniously destroyed in a controlled explosion the day following Super Bowl XLVIII.
This means that 49er fans who have been buying SF 49er football tickets over the years and attending ballgames at what has affectionately become known as "The Stick" have exactly eight more opportunities to see the team play in the stadium before it is eliminated forever. Coach Jim Harbaugh has quickly built the storied franchise into a championship contender once again, and SF 49er football tickets have become some of the most popular in the NFL in recent years.
Quarterback Colin Kaepernick was all over the pages of magazines this summer, and he clearly has the attention of the professional football world. If he is able to play up to his sky-high potential and get the most out of his weapons such as Vernon Davis and newly acquired wide receiver Anquan Bolden, it seems logical that the 49ers will be able to repeat -- and perhaps build -- on their success of 2012.
The schedule they will be facing in 2013 is by no means a cakewalk, and an opening day home game against the Green Bay Packers at Candlestick Park is expected to be a slugfest. San Francisco 49ers tickets to that home game and all other home and road games are now for sale at Top Notch Seats. Fans can be sure that coach Harbaugh will have the team ready for battle, and fans who want to be sure that they are there to see the action for themselves would be best served to buy San Francisco 49ers tickets now, before it's too late.
For more information about San Francisco 49ers tickets, visit http://www.topnotchseats.com.
About Top Notch Seats
Operating from the heart of Silicon Valley since 1993, Top Notch Seats is an online leader in secure ticket sales. TNS supplies audiences with quality seating and tickets to all major concerts, theatre and sports events in the Bay Area and around the nation.
Top Notch Seats specializes in providing Bay Area concert tickets with a wide variety of seating options, which enables customers to choose their favorite vantage point. TNS is a licensed Bay Area ticket broker engaged in the business of buying and selling first-rate tickets. They do not sell tickets at face value; ticket prices are often well above face value and reflect the cost of obtaining quality seating.