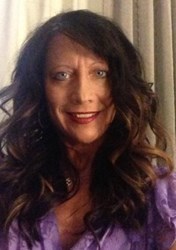 I see a great opportunity to expand TIATF, and develop more partnerships with other Criminal Justice organizations that could enhance and promote what TIATF is doing.
Nashville, TN (PRWEB) August 23, 2013
Ryder has been assisting Trafficking In America Task Force (TN Chapter) as a local volunteer for the I Promise To Do My Part Awareness Dance-Walk to be held September 7 in Nashville, TN. She is currently employed by Corrections Corporation of America, a member of American Correctional Association (ACA) where she has been a speaker for several years.
The I Promise To Do My Part Campaign is a youth program that inspires college and high school level students to become educated about human trafficking in their communities and to encourage their peers to do the same. Kimberly Benson, Co-founder of A Bridge of Hope in Memphis, TN, presented the idea to TIATF in 2011 when the partner organizations were brain storming for the new organizations slate of programming. "We knew we needed to reach America's youth if we were going to make a dent in the number of trafficked victims," states Yvonne Williams, President of TIATF. Benson presented the idea and wrote a pledge while Williams adapted a 55 page Empowerment report she had written a few years earlier. The program was off and running with a goal of obtaining youth ambassadors in all 50 states. To date over 3,000 have taken the I Promise Pledge: I Promise to do my part to educate myself on the issue of human trafficking in my state; to encourage and motivate my peers to become involved in educating themselves; to live with integrity, truth, respect, and humility as my guiding principles in my relationships; and to be a part of the solution rather than the problem. I am an Ambassador of a new generation and I am up for the challenge.
When the position for National Program Manager opened up, Michelle Ryder immediately responded to the opening and submitted her application. "I have had a great deal of interest in the topic of human trafficking since about 2009 when I began to bring in guest speakers to the Indiana Criminal Justice Association Conferences," said Ryder on her application. She has attended several workshops over the years and has a passion and desire to educate others about the atrocities that are going on in our communities that relate to Human Trafficking, Sex and Labor. "I believe that not only should adults be made aware but our youth, since the majority of the victims are so young, and often fall prey to the many predators out there in our communities," Michelle said when asked why she wants to be the National Program Manager for the campaign. Ryder comes well qualified to handle the responsibilities that the position requires. She has been in several leadership positions, both paid and volunteer based, and has the ability to inspire and motivate others to take action. Additionally she has experience organizing conferences as well as assisting in fundraising activities and is a National Speaker educating and training people in many areas, as well as educating others on important social matters.
Michelle is a long range planner. She sees a great opportunity to expand TIATF and develop more partnerships with other Criminal Justice organizations that could enhance and promote what TIATF is doing. The connections that she has with the American Correctional Association and the Indiana Criminal Justice Association both have student chapters that could grab a hold of TIATF's mission and the I Promise To Do My Part Campaign and run with it.
Williams feels that Ryder's performance-driven, and ambitious self-starter personality, is what the I Promise To Do My Part Campaign needs to become successful. She has been elected and appointed on non-profit volunteer boards, and has served as a Public Information Officer and a Program Developer. Michelle's entire career is based on Community, Public Relations, Program Development and Crisis Management. She has also served as President/Elect, Secretary, Regional Director, Conference Chair and Program Chair for the ICJA board.
When informed that she had been selected to serve TIATF in this capacity, Ryder said, "I am very excited and enthusiastic about this organization and this position. I believe I can be a great asset to TIATF and want to do as much as I can to educate and promote what we do, as well as engage and motivate others to join in this very important cause and spread the message of hope and recovery for victims."
Ryder will assume her new role volunteer role immediately. She can be contacted at ryderds(at)aol(dot)com or by phone at 317-502-1649.