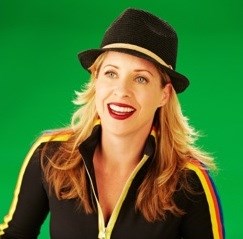 The future doesn't start somewhere off into the distance, the future starts here, now, with each of us.
Palo Alto, CA (PRWEB) August 26, 2013
On Thursday, September 19th from 5–8:30 p.m., Tiffany Shlain, author, filmmaker, and founder of the Webby Awards, will speak at the second Women's Evolutionary Leadership of Silicon Valley event on Women Harnessing the Power of Technology and Creativity. Tiffany will share her personal journey of finding her authentic voice, and show how all women can cultivate their creativity and share it with the world.
The event, sponsored by Dolby, Netgear and Intuit includes a wine reception and networking, presentation and interview of Tiffany Shlain by Wendy Wallbridge, coffee and a book signing. This is the second in a series of Women's Evolutionary Leadership events for the emerging community of women leaders in Silicon Valley. Host, interviewer, and author Wendy Wallbridge is the producer of TEDxSandHillRdWomen and a strategic advisor and executive coach. @wendywallbridge
Admission is $75, and includes a copy of Tiffany's DVD, Connected or a copy of her book Brainpower: From Neurons to Networks. This event will be held at the Oshman Jewish Community Center in Palo Alto. $10 off with code PRWeb. To register, go to http://www.wendywallbridge.com/the-future-starts-with-us/.
About Tiffany Shlain:
Honored by Newsweek as one of the "Women Shaping the 21st Century," Tiffany Shlain is a filmmaker, writer, founder of the Webby Awards, and co-founder of The International Academy of Digital Arts & Sciences. A celebrated thinker and catalyst, Tiffany is known for her ability to illuminate complex ideas in culture, science, technology, and life through her unique films, dynamic talks, and innovative projects. She is a sought-after keynote speaker, from delivering the campus-wide keynote commencement address at UC Berkeley to giving kick-off speeches at international conferences. Her films and work have received 60 awards and distinctions including a "Disruptive Innovation Award" from The Tribeca Film Festival. She currently has eight films playing at film festivals, conferences and educational institutions around the world. This fall, her new film "The Science of Character" will be released as well as a new original series for AOL called "The Future Starts Here." http://www.tiffanyshlain.com twitter @tiffanyshlain
Listing Information:
What: The Future Starts with Us! An Evening with Tiffany Shlain
When: Thursday, September 19th, 2013, 5 pm–8:30 p.m.
Where: Friedrich Conference Center, Oshman Jewish Community Center, 3921 Fabian Way, Palo Alto, CA 94303
Cost: $75 ($10 off with code PRWeb). Admission includes either a DVD of Tiffany's film Connected or a copy of her book Brainpower: From Neurons to Networks.