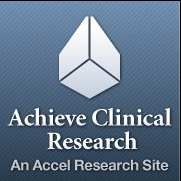 Birmingham, Alabama (PRWEB) August 27, 2013
*To see if you qualify for this Constipation Clinical Trial in Alabama, visit Achieve Clinical Research on the web (http://www.achieveclinical.com) or contact us directly at (205) 380-6434. There is no cost to participate, no insurance is required, and you may receive compensation for time and travel.
STUDY DESIGN
This is a multicenter, double-blind, placebo-controlled, parallel-group study in participants with opioid-induced constipation who are taking opioid therapy for chronic non-cancer pain. Participants will be randomized in a 1:1 ratio to receive the new constipation drug or matching placebo. The study will consist of 3 periods: a screening period of up to 21 days, a 52-week double-blind treatment period, and a 4-week follow-up period.
BACKGROUND & RATIONALE
Patients who take opioids often suffer from constipation and associated gastrointestinal side effects (e.g., abdominal cramping, abdominal bloating, excess gas) for as long as they remain on opioid therapy. Based on the reported literature and previous clinical trials, these patients often suffer from constipation for many years thus requiring long-term management for this condition.
Opioid-induced constipation has a negative impact on a patient's quality of life and, if not treated effectively, can lead to serious complications including obstipation and bowel perforation. Moreover, patients may discontinue opioids because of the associated constipation, thereby compromising their pain management and increasing the risk of systemic opioid withdrawal.
No drug has been approved as monotherapy for the treatment of constipation in patients taking opioid therapy for chronic non-cancer pain. Current treatment options are limited: they include stool softeners and laxatives; diet and exercise; and opioid dose-reduction, switching, or discontinuation. However, these treatments are often ineffective, associated with significant GI side effects, and burdensome to patients.
PRIMARY OBJECTIVE
Evaluate the safety and tolerability of this experimental constipation drug in human participants over 12 months, relative to a placebo.
INCLUSION CRITERIA
To be eligible for enrollment, a subject must meet all of the following criteria before any study-related procedures are conducted:

Is able to understand and comply with the study procedures and voluntarily provide written informed consent
Is a man or woman aged 18 to 80 years, inclusive, at the time of Screening
Has a body weight of ≥ 45 kg and a body mass index (BMI) ≤ 45 kg/m
Has not achieved adequate relief with other treatments for constipation (e.g., laxatives)
Is taking a stable daily dose of opioids of ≥ 30-mg morphine-equivalent total daily dose (METDD) for chronic non-cancer pain for ≥ 30 days before Screening and expected to continue on a dose of ≥ 30-mg METDD for the duration of the study
Is taking opioids via oral, transmucosal, sublingual, or transdermal routes of administration (intrathecal opioids via pump are permitted provided they are taken in addition to a full opioid agonist meeting the METDD requirement)
Has constipation that is caused by the chronic use of opioids and has the following self-reported symptoms of constipation that a) have occurred in temporal association with and directly related to starting opioid therapy, b) have persisted since starting opioid therapy, and c) have been present for ≥ 2 months:
-- Decreased BM frequency and
≥ 1 other BM symptom (i.e., straining to pass a stool, lumpy hard stools or small pellets, or sense of incomplete evacuation after passing a stool)
If female, subjects must not be pregnant (confirmed via pregnancy test at Screening and Day 1), and must meet either Criterion (a) or Criterion (b) below:
Is not of childbearing potential: defined as postmenopausal (i.e., having no menses for ≥ 1 year without an alternative medical cause) or surgically sterile because of bilateral tubal ligation, bilateral oophorectomy, or hysterectomy
Is of childbearing potential, meets 1 of the following 4 criteria:
Is abstaining from sexual intercourse
Is using an insertable, injectable, transdermal, or combination oral contraceptive for ≥ 1 cycle before randomization through 30 days after the subject's last dose of study medication
Is practicing a double-barrier method of birth control (if composed of a spermicide with either a condom or diaphragm)
Has a vasectomized partner (and is using a spermicide, condom, or diaphragm)
*Achieve Clinical Research conducts Phase II-IV Clinical Trials in Alabama. For more information about participating in a Constipation Clinical Study, please visit our website or contact us directly at (205) 380-6434.