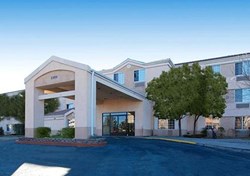 Our focus is to provide the best customer service and provide spots at the least cost possible.
Albuquerque, NM (PRWEB) August 27, 2013
Greenbee Parking, a growing airport parking solutions firm, has announced cheaper Albuquerque Airport parking rates for travelers using the busy Albuquerque (ABQ) airport in their latest web upgrades. Albuquerque is a well-known tourist hub and the connecting city for all the nearby attractions in the region. It is also home to many new age energy and technology companies which makes it an up and coming business hub. Together, these reasons combine to make a relatively smaller airport, like ABQ, very busy with quite a high passenger footfall round the year. Naturally, this means increasing demand for airport parking space, which unfortunately, has been at a crunch, causing passengers much distress. Leading service providers, like Greenbee Parking, has stepped into the breach and offered solutions that suit both passengers and authorities alike. Now, there is no dearth of parking options and that, too, at affordable rates, which will no longer compromise travel budgets.
"Our focus is to provide the best customer service and provide spots at the least cost possible," said Christine Cooper – Marketing Coordinator, Greenbee Parking. "That is why we have come up with the new Albuquerque Airport parking rates for travelers frequently using our service. We hope to come up with more innovative offers in the near future to improve customer experience and these can be readily tracked through our web upgrades."
Albuquerque International Sunport Parking Information
Albuquerque International Sunport is the largest commercial airport of New Mexico and connects all the neighboring cities as well as smaller towns in the state. For a medium-sized airport, it sees around six million passenger footfalls annually. A large percentage of this figure is of course attributed to the high tourist turnover for the state, but quite a sizeable portion is also due to constant inflow and outflow of business travelers. Albuquerque (ABQ) airport acts as a busy cargo and freight hub in the south and simultaneously connects with 23 cities. All these combine to make this a very busy airport with a high volume of ground traffic leading to rising demand for airport parking space. With service providers like Greenbee Parking, travelers using this airport will now have multiple parking options and that too at extremely affordable Albuquerque Airport parking rates. The company is focused at constantly improving on their offers and come up with cheap new deals in frequent intervals, all of which can found through their regular web upgrades.
The Greenbee Airport Parking Solution
Greenbeeparking.com is the connection between consumers and parking vacancies in close proximity to major airports and seaports. The parking spaces are very affordable because the company has negotiated discounted rates with major hotel chains for the parking spaces that are not currently occupied. Here's how it works: Greenbee Parking puts the available inventory of parking spaces on their website to be reserved by business and leisure travelers looking for cheap airport parking. This alternative method for finding parking equates to significant savings for the traveler.
About Greenbee Parking
Greenbee Parking is the nation's most innovative long term parking company, with a new way of making long term parking affordable. The company is rapidly adding new airports to its network. Check us out today to save on your parking spot.