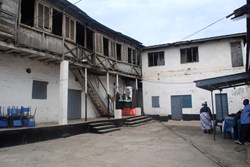 After restoration, Naa Laingoye will house a culinary arts training facility combined with a bed and breakfast.
Boulder, Colorado and Accra, Ghana (PRWEB) August 27, 2013
A long-awaited project to bring a culinary school to the heart of Accra, Ghana's historic district is now underway, announced Adventures in Preservation (AiP). Along with primary project partners, Ghana Museums & Monument Board and Ghana Home Tours, AiP is seeking sponsors to back this innovative economic stimulus initiative.
Development of the Naa Laingoye Culinary Institute will begin with restoration of the colonial-era Naa Laingoye house, believed to have been built in the early 1800s. Originally a residence, the structure was at one point a maternity home for young mothers and is now vacant and waiting for its next role.
"After restoration, Naa Laingoye will house a culinary arts training facility, combined with a bed and breakfast, the Naa Laingoye Guest House, that will provide hospitality training as well," explains Judith Broeker, AiP's Program Director. "The house is located in the historic James Town section of Accra, a vibrant, though impoverished, neighborhood that needs an economic boost."
This venture will bring job training and practical experience across the full spectrum of the hospitality industry. At the same time, it offers a great step forward in demonstrating the value of the preservation and continued use of historic buildings.
Accra is a major tourist market, and there is demand for trained chefs as well as restaurant and hospitality personnel. As Accra's primary historic district, James Town is one of the city's major tourist draws. The district, however, lacks the type of guest accommodations and restaurants that encourage tourists to remain and spend their travel dollars.
Once established and operating, plans call for the Naa Laingoye Culinary Institute to also offer cooking classes for tourists as a way of generating both revenues for the program and interest in traditional Ghanaian fare. The Guest House will generate revenue via paying guests to help cover the cost of building upkeep.
Additional project partners include Ghana's Ministry of Tourism, Tourism Authority, the Municipal authorities and the Hotel Kitchen and Tourism Institute.
Adventures in Preservation specializes in providing enriching experiential travel opportunities for preservation-minded adventurers. Those interested in economic development in Africa or who are members of the growing constituency of foodie travelers are also good candidates for joining the teams of hands-on experiential travelers who will complete the majority of the Naa Laingoye house restoration work. Trips are expected to begin in late 2014.
For information on becoming a sponsor of the Naa Laingoye Culinary Institute, contact Judith Broeker, Program Director at Adventures in Preservation.
Adventures in Preservation (AiP) is a non-profit organization connecting people and preservation through enriching experiential programs that safeguard cultural heritage and foster community sustainability. AiP travelers have the opportunity to travel, experience their destination, and learn hands-on skills from experts while assisting communities in saving their historic resources. Learn more about AiP's "Heritage travel with purpose" at http://www.adventuresinpreservation.org/.