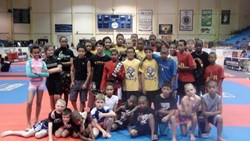 Wildwood, NJ (PRWEB) August 22, 2013
The North American Grappling Association (NAGA) hosts dozens of grapplings tournaments every year, and Team Lloyd Irvin Martial Arts Kids have dominated the east coast competition. Each installment of the NAGA tournament from Virginia to New Jersey, usually hosts over 200+ competitors, and Team Lloyd Irvin Kids are always grabbing up medals and swords.
On August 3rd and 4th, the Team Lloyd Irvin Kids made their way to Wildwood, NJ to participate in the Battle at the Beach NAGA tournament. This two-day event was open to kids, teens, and adults, beginner to expert. Over 30 members from the Team Lloyd Irvin Kids squad fought in the tournament and nearly all brought home a medal. Team results have yet to be released, but it's likely the Kids landed in the top 3, if not first place for kids and teens overall.
The youngsters participated in both gi and no gi grappling. Some of the teens on the Team Lloyd Irvin squad, also competed in the adult divisions. Any advanced or expert level grappler aged 16-17 can compete in both teens and adult divisions. Shane Jamil Hill-Taylor was one of those stand-outs, winning mens purple belt gi, mens expert no-gi, teens gi, and teens expert no-gi in his respective weight class.
Other teens who won their adult divisions were: Aarae Alexander (womens purple belt), Derrick Holmes (mens purple belt), Malachi Edmonds (mens blue belt), and Cedric Bryant (mens purple belt).
For the younger stars on Team Lloyd Irvin Martial Arts Kids, 7 won at least two gold medals, 2 won one gold medal, and 6 others placed in the top three, all in their respective weight and age divisions.
Even the beginners did well, like young Sidney James who won kids gi twice and no-gi twice.
For more information on Team Lloyd Irvin Martial Arts Kids please call 301-449-KICK or visit http://www.KidsKarateClasses.com.