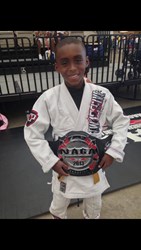 Wildwood, NJ (PRWEB) August 22, 2013
Team Lloyd Irvin Martial Arts Kids Program has been in business for over 14 years and it's been producing top notch students and athletes ever since it's opened the doors. One of those athletes is Lloyd Irvin's own son, Lloyd Irvin III aka Little Lloyd. Little Lloyd has been participating in martial arts practically since he left the womb.
Most recently, Little Lloyd was able to display all those years of superior martial arts training, by representing his team, the Lloyd Irvin Kids, at the NAGA Battle at the Beach in Wildwood, NJ. NAGA (North American Grappling Association) hosts dozens of tournaments all across the United States every year, and is the perfect place for grapplers young old, beginner to expert.
Little Lloyd participated in the expert division in both gi and no-gi. In gi, participated are required to wear a gi (or kimono) which consists of "rip-stop" cotton pants and thick cotton jacket. For No-Gi, participants must wear grappling shorts or board shorts. Men can go shirtless, or wear t-shirt or tight fitting rash guard.
Little Lloyd represented well, winning both divisions and bringing home a gold medal for the gi and a nice belt for the no-gi.
Other members of Team Lloyd Irvin Martial Arts Kids also won their respective divisions. Over 30 kids and teens from the Team competed, and brought back 29 gold medals and 6 2nd or 3rd place medals. NAGA, for kids participants, often awards the winners with samurai swords and belts as well.
Other members of Team Lloyd Irvin Martial Arts Kids who participated include: Star Chase, Ross Olexa, Shon "Rico" Staton, Elijah Dorsey, Miguel Davis, Korey Walker, Dahza Hamilton, Sidney James, Larry Chaney, Mia Broadway, Stone James, Quinton Dixon, Ryan Lackey and Kobe Adolph.
For more information on Team Lloyd Irvin Martial Arts Kids, please call 301-449-KICK or visit: http://www.KidsKarateClasses.com.