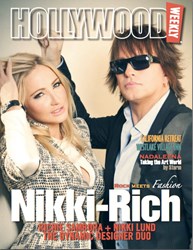 (PRWEB) August 23, 2013
Trumping the likes of Marlon Brando, Shaquille O'Neal, and Jamie Foxx, Designer Nikki Lund and her business partner, Richie Sambora find themselves front and center on the cover of Hollywood Weeky's September 2013 issue.
The news has been buzzing around the pair lately as their lauded clothing line, Nikki Rich, continues to break through barriers and soar to greater heights.
The brand, now into its third collection, seems to be taking on a life of its own.
As a follow-up to the overwhelmingly positive reception their fall 2013 collection received during LA Fashion week earlier this year (WWD and Apparel News took note), the dynamic pair are preparing to take their show on the road.
We recently caught up with Nikki Lund who told us she and Sambora are heading to Tokyo at the end of August for their live debut on ShopChannel Japan, a home shopping network that reaches 27.46 million households at last count.
And stateside, select items from the collection will begin to appear in the high-end, mid-west retail chain Von Maur in early September.
According to Hollywood Weekly, Nikki Lund and Richie Sambora are teaming up to "bring the freshest trends in fashion," and if the last several months have been any indication, they are definitely not wrong.