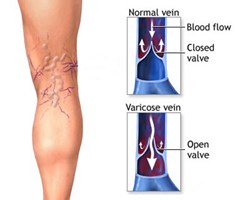 Insufficient blood flow deprives the skin in this area of essential oxygen and nutrients, allowing ulceration to occur
Surprise, AZ (PRWEB) August 28, 2013
Palm Vein Center is announcing the launch of a new social media campaign designed to educate the public about the dangers of advanced stage venous disease. The Arizona based vein center states that if left untreated, mild forms of vein disease like varicose veins can advance into much more serious conditions. The center hopes that better education on the topic can help the public take steps to avoid these unfortunate complications.
A Palm Vein Center representative explains that a long-term lack of blood flow in the ankles and leg can lead to complications like ulceration and blood clots: "Insufficient blood flow deprives the skin in this area of essential oxygen and nutrients, allowing ulceration to occur."
The center's new campaign will focus on why venous disease advances and what can be done to keep it from happening. This information will be distributed through the center's social media outlets, including Facebook and Twitter. Readers who are interested in learning more on this important topic can access this information throughout the month of August.
For more information, visit: http://www.palmveincenter.com/.
Varicose Vein Treatment Options
Varicose veins and spider veins are extremely common in men and women. While spider veins are very small, reddish veins on the surface of the skin, varicose veins are much larger, bulging, tangled veins that may appear bluish in color. Men and women suffer from varicose veins, although women are much more likely to have them.
Today, patients have access to a number of effective varicose vein treatment options. Advancements in technology and medicine have led to the development of effective, minimally invasive treatments that produce optimal results with few side effects or downtime. These treatments include sclerotherapy, radio frequency ablation, phlebectomy, and endovenous laser ablation.
About Palm Vein Center
Palm Vein Center, located in Surprise, AZ and serving the greater Phoenix area, is a leading vein care facility providing comprehensive diagnostic and treatment services for the full range of vascular disorders. Palm Vein Center operates on a core guiding principle of integrity in health care. The center provides the highest standard of care for patients, while only performing treatments that are medically necessary to improve health, well-being, and quality of life. Their highly experienced physician team includes vein specialists in multiple areas. The center specializes in the treatment of varicose veins, spider veins, peripheral artery disease, and other vein disorders. Their entire medical and office staff is dedicated to ensuring that every patient receives the personal, quality care they deserve, and that each patients' experience with the center is positive, comfortable, and health-affirming.
http://www.palmveincenter.com
Surprise, AZ
Phone: (623) 201-4777