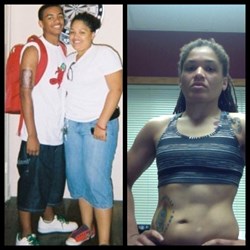 I'm so glad I joined Lloyd Irvin Martial Arts Academy... Sijara Eubanks.
Camp Springs, MD (PRWEB) August 29, 2013
Lloyd Irvin Martial Arts Academy first opened its doors in 1997 with its owner and founder Lloyd Irvin, teaching martial arts, fitness, and self-defense. Today, the academy is a thriving 10,000 sq ft facility in Camp Springs, MD and it's still serving the surrounding community.
Now, the Academy is launching a fitness program for adult men and women to complement the martial arts training program. The Lloyd Irvin Fitness program is specifically designed to help adults lose weight, get in shape and have a great time doing it.
As with all the adult programs at Lloyd Irvin Martial Arts Academy, the fitness program offers a 30 Free Day trial for all new members. This means, you can walk in, try their new program and start seeing results, without having to pay a single penny.
The new program is been redesigned and is now instructed by Coach Greg and Coach Nyjah, both with extensive background in fitness. As an added bonus, one of the coaches will give you a private lesson and full fitness assessment before joining the program to see where each individual stands. New participants can also opt for a free private meeting with one of the coaches to assess goals and accomplishments.
Read on to see how one of Lloyd Irvin's very own students has benefited greatly from the fitness program at the Academy.
One of the benefactors of the Lloyd Irvin Martial Arts Program is Sijara Eubanks, 28, originally of Springfield, MA. Sijara first walked through the doors of the academy in November 2008, looking to lose weight. She had surpassed 200 lbs and was at a low point in her life.
"I was depressed and overweight, it was the heaviest I had ever been. I was just eating and getting heavier and heavier and I didn't know what to do. I had tried gym memberships, but I was bored with that. I couldn't afford to hire a personal trainer and frankly it was embarrassing being at the gym with all those meat heads. I needed something else and I came across Lloyd Irvin's Martial Arts Academy while searching for women's fitness training."
It was the best move Sijara had ever made. At Lloyd Irvin Martial Arts Academy, the fitness program has many options: all-women, co-ed, beginner and advanced. The fitness program includes an evaluation session, where new participants are measured, tested, and placed in the appropriate fitness class.
Ever since joining the Academy, Sijara has been happy, healthy, and now, she even works there, teaching and helping new men and women achieve their fitness goals.
"I'm so glad I joined Lloyd Irvin Martial Arts Academy, I'm now 140 lbs, I participate in fitness, brazilian jiu jitsu and boxing. I love it! The people here are welcoming and supportive and encourage you to reach your goals."
For more information on Lloyd Irvin Martial Arts Academy Fitness Program, please visit http://www.lloydirvin.com or call 301-449-KICK, lines are open 24/7.