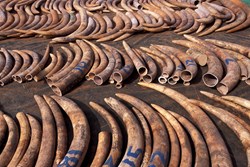 (PRWEB) August 23, 2013
Julian Omidi, Maria Abaca, and Dr. Michael Omidi, cofounders of Animal Support call upon the supporters of animal rights to focus their efforts on the elimination of elephant poaching. The Washington Post Newspaper article, "Obama wants to curb Africa's ivory trade. Here's what he's up against", reports on June 1st, 2013 that President Obama unveiled a new, $10 million initiative to curb elephant poaching in Africa during a recent trip to Tanzania. (http://www.washingtonpost.com/blogs/worldviews/wp/2013/07/01/obama-wants-to-curb-africas-ivory-trade-heres-what-hes-up-against)
International trade in illegal rhino horns and elephant tusks, driven in large part by rising demand in China and Thailand, is rapidly depleting the animals' populations in Africa. The number of animals poached for their ivory is double what it was only six years ago, and triple what it was in 1998 according to a recent study issued jointly by the International Union for Conservation of Nature, the U.N. Environment Program, the Wildlife Trade Monitoring Network, and the Convention on International Trade of Endangered Species (CITES).
On July 1, 2013 President Barack Obama issued an Executive Order on Combating Wildlife Trafficking which addresses both the domestic and international response to the current surge in wildlife trafficking.
The Convention on International Trade of Endangered Species (http://www.cites.org) is threatening eight nations with sanctions if they continue to fail to regulate their ivory trade. These countries are: Kenya, Tanzania, Uganda, China, Vietnam, Philippines, Thailand and Malaysia. The report also accuses these eight nations of allowing criminal organizations to operate unchecked – from the actual killing of the elephants to the trafficking of the ivory products.
The sanctions that may be imposed upon incompliant nations will prevent the trade of all legal wildlife products to other CITES member countries. For nations whose primary revenue is the trade of wildlife products, the sanctions could cause severe revenue losses.
Animal Support (animalsupport.org) is dedicated to addressing pet over-population and abuse by promoting charities working on behalf of animal well-being. The organization was founded by brothers Dr. Michael Omidi and Julian Omidi along with long-time friend Maria Abaca to advocate for animal protection, rescue, adoption, and spay and neuter laws. Animal Support does not accept donations but encourages direct contributions of money and talents to the charities and organizations featured on our website. For more information about Animal Support, send a message using the website's Contact Us function, check out Animal Support on Facebook, Twitter, Google+, and Pinterest.