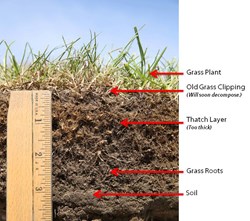 Kennewick, WA (PRWEB) August 22, 2013
Senske Services is launching a new promotion to remind homeowners that when it comes to a great looking lawn, beauty begins beneath the surface. In fact, maintaining a quality turf long-term requires a thriving root system. Meantime, a healthy root system needs aeration which stimulates new growth and helps to control thatch build up.
Why aeration? Like people, plants require oxygen for respiration. Oxygen-rich air for roots is usually found in tiny pockets in the soil. But during a busy summer, these pockets become compacted by people walking and playing on the lawn. This can lead to grass being cut off from water and nutrients. When this happens lawn professionals can begin aeration, which is the process of removing plugs of soil to create more air circulation.
Proper aeration promotes deeper rooting which helps grass to stay healthy. It also creates openings for nutrients and seeds to penetrate soil. For that reason, the professionals at Senske recommend overseeding after aerating. In the long run, overseeding will promote a thicker lawn and discourage weed growth.
Often, the optimal time for aeration will depend on soil and grass type. Some types of soil require more frequent aeration than others. What's more, different grasses should be aerated at different times of the year. Homeowners who aren't sure about their soil or grass should begin by contacting a lawn care professional. Anyone within Senske's service area can receive a free customized estimate by calling Senske at 877-557-5006 or by visiting the company's website at http://www.senske.com.
About Senske Services:
Senske Services, Inc. is a leading lawn, tree, pest control and holiday lighting service provider that is locally owned and operated, with its corporate office based in Kennewick, Washington. It has been a trusted source of lawn, tree and pest control services since 1947 across Eastern Washington, Idaho, and Utah, as well as pest control in Las Vegas, Nevada. To see what Senske Services can do for you, visit http://www.senske.com.