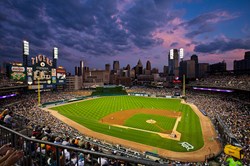 Denver, Colorado (PRWEB) August 22, 2013
As summer slips into a seventh inning stretch of its own, 37 games remain on the roster in the 162-game MLB Baseball regular season.
The standings are tight in both leagues, with the exception of the Atlanta Braves in the NL East. They are up 16 games over the Washington Nationals and have the highest winning percentage (.611) in both leagues.
"Now that every game is starting to count, fans are turning out in higher numbers," said Felina Martinez at buyanyseat.com. "Ticket sales are up."
Today's top trending sports traffic is led by the Detroit Tigers, San Francisco Giants, New York Yankees, Los Angeles Dodgers, Texas Rangers, Cincinnati Reds, Kansas City Royals, Boston Red Sox, Chicago Cubs, Pittsburgh Pirates, and Atlanta Braves.
"MLB Baseball continues to lead traffic in sports, while NFL Football tickets are also starting to convert at higher levels, now that the preseason as started," said Felina Martinez at online ticket marketplace BuyAnySeat.com.
"That's why we're proud to offer sports fans the most comprehensive and continuously updated selection of sports tickets online, with a worry-free guarantee to protect their purchase," said Martinez.
"To access the full line-up of MLB Baseball tickets tickets now available, customers can go to BuyAnySeat.com and search for the MLB Baseball – then select their team and their tickets," said Martinez.
Roughly 125 games through the 162-game regular season, the Boston Red Sox, Detroit Tigers and Texas Rangers lead their divisions in the American League. The Red Sox are up three games on the Rays, the Tigers are five games up on the Indians, and Rangers are two game up on the Athletics.
The Pittsburgh Pirates, Los Angeles Dodgers and Atlanta Braves are atop the standings in the National League. The Braves and Dodgers lead by a comfortable margin (16 and eight games respectively), while the Pirates are only one game up on the St. Louis Cardinals.
This year's regular season, split between home and away games for each of the sport's 30 teams, runs through Sunday, September 29. MLB Baseball has the highest season attendance of any sports league in the world. (Source: wikipedia.org)
To shop for discount MLB Baseball tickets, visit BuyAnySeat.com.
About BuyAnySeat.com:
An online ticket marketplace, BuyAnySeat.com connects sports, theater and other live entertainment fans to an extensive network of ticket sellers worldwide. The site's simplified listings and navigational tools enable shoppers to easily locate, compare and purchase inexpensive, discounted or lower-priced tickets to virtually all advertised sports and entertainment events around the globe.
The ticket marketplace, which is PCI-compliant and Norton Secured, also provides customers with a complete Worry-Free Guarantee on all ticket purchases. Based in Denver, Colorado, BuyAnySeat.com is a subsidiary of Denver Media Holdings. For more information, please visit http://buyanyseat.com.