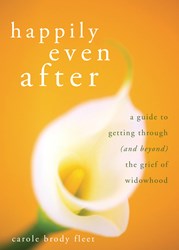 "This book is recommended for its authentic depiction of the widow's experience." — Spirituality & Practice
(PRWEB) August 22, 2013
Carole Brody Fleet has published the second article in her "Bereavement Boot Camp," a series of writings on Huffington Post that speak to the experiences of grief, loss, widowhood, and recovery. Carole is an expert in bereavement and recovery, and authored the groundbreaking guide Happily Even After to help widows on the path to healing.
This installment focuses on how a widow or widower can deal with the hurtful and insensitive phrase "get over it." As Carole explains, "There is absolutely no such thing as getting 'over it'. The phrase is a complete myth (along with time healing all wounds)."
This common misconception can be damaging for the recently bereaved to hear, because the healing journey takes time, and the hurt from a lost love never entirely fades.
Happily Even After is the 2013 recipient of the prestigious Books for a Better Life Award.
What people are saying about Happily Even After:
"In Happily Even After, Carole Brody Fleet has fresh things to say about the intricacies of intimacy, returning to the workplace, the grief of children, and remarriage. This book is recommended for its authentic depiction of the widow's experience." - Spirituality & Practice
A Compassionate and Comprehensive Guide for Anyone Who Has Lost a Spouse or Life Partner
Inside Happily Even After, you will learn how to:

Live as a single person in a couple's world.
Rekindle neglected friendships and start new ones.
Transform holidays back into joyous, memorable occasions.
Reintegrate into the workplace.
Give yourself permission to explore dating.
Find grief groups and choose one if that's right for you.