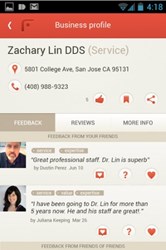 Flyplist puts trusted collective wisdom at your fingertips…
San Jose, CA (PRWEB) August 22, 2013
Flyplist, an online service where friends help friends find trusted businesses, announced today the release of the public beta version available on mobile and desktop browsers at http://flyplist.com. Flyplist lets you find and recommend services and businesses that you have had good experience with so your friends can receive the same good service.
Imagine trying to find a good dentist, mechanic or a cleaning service by walking down a busy downtown street, asking any stranger if they can refer one to you! You wouldn't do that. Would you? Most likely, you would email or call a friend or a good neighbor and ask them for a referral, then you'd wait for a response.
So why do we search through sites like Yelp and Yellow Pages that provide reviews and ratings from strangers? Because there are no alternatives. Existing solutions do not provide any reliable means of finding businesses where trust is a necessary consideration. We are more confident of finding the right business when it comes referred through friends or people we know and trust. We all know which of our friends swear by their hairdresser, handyman, broker or that tiny exclusive boutique – now so does Flyplist – letting us get to that boutique even when the friend isn't anywhere to be found. Flyplist uses your Facebook login for user authentication and for building your referral network and Google Places API to locate businesses.
"Flyplist puts trusted collective wisdom at your fingertips," says Indra Singhal, CEO of Flyplist, a company that helps consumers find services and businesses through their trusted social networks.
"Trying out a new "5-Star" restaurant is one thing. In the worst case, if you don't like the food, you'll walk out and never go back. However, it's quite another getting your car fixed at a "5-Star" mechanic, who sticks you with a bill for extra unneeded repairs. That's when you'll wish, you had called Bob, who swears by his reliable mechanic."
"Or better yet, you could launch Flyplist on your mobile phone and instantly find Bob's mechanic without waiting on or having to call him."
Flyplist is available on desktop and mobile browsers running on Android, iOS, and Windows8 at http://flyplist.com/.
About Flyplist
Flyplist connects people with their trusted businesses, and businesses with their loyal customers and their friends. Flyplist was founded in late 2011 in silicon valley, California, and is seed funded. Co-founded by Indra Singhal, an ex-Bell Labs technology entrepreneur with 25 years of experience, and by Shanthi Narayanan, ex-PayPal and winner of the Women Entrepreneur Award at Blossom Ventures 2nd Annual Flight to Freedom Summit.
For interviews or more information, contact:
(408) 796-1305, or email team+press(at)flyplist(dot)com