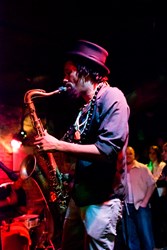 Petaluma, CA (PRWEB) August 23, 2013
Leading gig bag and instrument case maker Reunion Blues officially welcomes Grammy Award winning saxophonist and composer Kebbi Williams to it's growing family of artists. As a multi-instrumentalist, composer, producer, arranger, teacher and innovator, Kebbi's uniquely extraordinary experience brings fresh and diverse creative talent to the Reunion Blues roster.
With a reputation for improvisation and cross-genre skill, Kebbi William's work includes everything from Avant-garde, Jazz, Hip-hop, Latin and Afro-beat to Gospel, Electronica and Classical. He has played with high profile artists such as Abbey Lincoln, Betty Carter, Donald Byrd, Branford Marsalis, Roy Hargrove, Jeff "Tain" Watts, Raphael Saadiq, Bilal, Me'Shell Ndegeocello, Outkast, Mos Def, and Susan Tedeschi. Kebbi Williams is also a proud member of the multi-Grammy Award winning Tedeschi Trucks Band, led by the legendary Derek Trucks of Allman Brothers fame.
Kebbi's devotion to musical excellence and his community are also reflected in his work with Atlanta event Music In The Park, a non-profit organization dedicated to creating musical exposure for students. Kebbi, and the Music In The Park mission focuses on giving back - "Basically, we love music, under-served artistic communities and young artists" says Kebbi. In a time when funding for arts in public schools is rapidly declining, the importance of musical exposure is critical, and with the help of devoted musicians like Kebbi, the creative energy of tomorrows artists is preserved.
Reunion Blues is proud to welcome Kebbi Williams, and support his passionate work.
For more information please visit us at http://www.reunionblues.com
Founded in 1976, Reunion Blues is the music industry's premier gig bag and case company. Reunion Blues offers an extensive product selection including over 100 models of cases and bags for fretted, brass, woodwind, strings and percussion instruments.