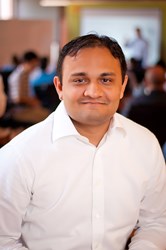 capSpire is committed to providing the best services and solutions to our customers
TULSA, Oklahoma; FAYETTEVILLE, Arkansas; HOUSTON, Texas (PRWEB) August 23, 2013
capSpire, a global consulting and solutions company that creates, customizes, and implements meaningful technology for commodity trading organizations, announces the firm successfully joined the OpenText Global Partner Program and created a partnership with OpenText™, the global leader in Enterprise Information Management (EIM).
Under the agreement, capSpire will deliver OpenText ECM, which is one of the five key pillars of OpenText's EIM suite of solutions. OpenText ECM is an integrated set of technologies that manage information throughout its lifecycle and improve business productivity, all while helping to mitigate the risk and controlling the costs of growing volumes of content.
According to capSpire co-founder Jeff Hardcastle, capSpire consultants and engineers possess the knowledge required to help both large and small corporations build a new environment or manage their current environment.
"Our ECM team is second-to-none when it comes to knowledge and experience in the enterprise content management space. We noticed a demand for OpenText ECM services and solutions, and capSpire is excited about our partnership with OpenText to provide a wide array of ECM services to our current customers in the energy space," Hardcastle says.
capSpire recently added Syed Ahmed to lead the new ECM team. With extensive leadership background around OpenText product implementations and experience partnering with OpenText, Ahmed will spearhead growth around capSpire's new OpenText ECM services and solutions. Ahmed additionally possesses several years of experience in leading functional and technical teams in OpenText implementations.
"capSpire is committed to providing the best services and solutions to our customers by enabling the most efficient and productive ECM methodologies. This collaboration with OpenText will allow us to extend our methods and is important for the benefit of our customers. Our goal is to develop relationships and partnerships with the best in the industry and to deliver the best services and solutions," Ahmed says.
capSpire's ECM team is led by respected leaders with over forty years of combined ECM experience and vast knowledge of configuration and optimization in demanding environments. The partnership with OpenText marks an important milestone for capSpire as the firm continues to expand its two-year-old ECM practice.
About capSpire
capSpire is a global consulting and solutions company that creates, customizes, and implements meaningful technology for commodity trading organizations. With a focus on commodities trading, risk management, and complex enterprise content management, capSpire also creates valuable business process and technical solutions such as the capSpire Gravitate Portal. capSpire offers an unparalleled level of services including IT strategy and planning; system selection and integration; and ongoing production support. Headquartered in Northwest Arkansas, with an office in Tulsa, Oklahoma, capSpire serves Fortune 500 companies in the Americas and Europe. Visit http://www.capspire.com for more information.
About OpenText
OpenText provides Enterprise Information Management software that helps companies of all sizes and industries to manage, secure and leverage their unstructured business information, either in their data center or in the cloud. Over 50,000 companies already use OpenText solutions to unleash the power of their information. To learn more about OpenText, please visit: http://www.opentext.com/.
OpenText is a trademark or registered trademark of Open Text SA and/or Open Text ULC. The list of trademarks is not exhaustive of other trademarks, registered trademarks, product names, company names, brands and service names mentioned herein are property of Open Text SA or other respective owners. All rights reserved. For more information, visit: http://www.opentext.com/2/global/site-copyright.html_SKU/.
For more information please contact:
Syed Ahmed
syed.ahmed(at)capspire(dot)com
1.888.532.2815