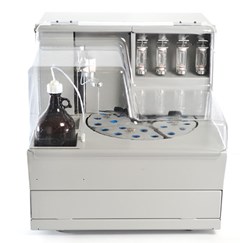 San Diego, CA (PRWEB) August 23, 2013
Discovery-4 is a 4-vessel peptide synthesizer designed to overcome the shortcomings and unnecessary complexity of existing synthesizers. The unique design prevents any precipitation, clogged lines, and overfills so typical of other instruments. The use of stock solutions of AA's eliminates the need for pre-fill cartridges or barcoding. The Discovery-4 has a preactivation vessel for every reaction vessel, which allows the synthesis of excellent quality peptides with a single coupling protocol.
The instrument's inherent flexibility for reagent set-up makes Discovery-4 very effective for both small and large scale synthesis from 0.05 mmol to 3 mmol. The system's precise metering pump delivery, patented solvent measuring device, and drastic washes reduction, cuts reagent and solvent consumption in half, thus reducing cost and minimizing waste. Discovery-4 utilizes 30, 60 and 100 ml glass reactors with removable filters. Each reactor can run independently with different scales and protocols.
The easy to use powerful software allows the user to effortlessly import sequences from USB, assign protocols to sequences, and sequences to reaction vessels. The calculation table, which is generated, provides the quantity of reagents required, allowing the user to very quickly go from an idea to execution.
The small footprint and fully ventilated hood make Discovery-4 suitable for any size peptide lab. With all this and more, the Discovery-4 is an ideal tool for R&D, process optimization, and peptide production.
For more information please visit http://www.peptidemachines.com/.