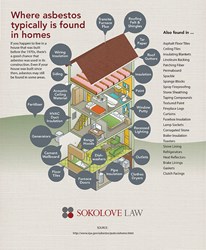 "Despite these regulations, asbestos can still be found in several products and materials that are used today in new home construction," said Ricky LeBlanc, Managing Attorney at Sokolove Law
WELLESLEY, MA (PRWEB) August 22, 2013
Sokolove Law, a leader in helping people obtain access to the civil justice system, explains where asbestos may still be found in homes. While houses that were built before the 1970s have a higher instance of asbestos used in construction, asbestos-containing products and materials may still be used today.
Though there have been movements to curtail the use of asbestos-containing products and materials, the dangerous mineral, known for its durability and multi-purpose functionality is not banned in its entirety.
For example, in the 1970s, the U.S. Environmental Protection Agency (EPA) established various regulations to limit, and in some instances ban the use of asbestos in building materials and other common products. This was followed several years later by the Toxic Substance Control Act of 1989, which banned asbestos-containing materials in several products, including; commercial paper, specialty paper, and flooring tile.
"Despite these regulations, asbestos can still be found in several products and materials that are used today in new home construction," said Ricky LeBlanc, Managing Attorney at Sokolove Law. "The dangers of asbestos have been known for decades, but the construction industry continued to use asbestos-containing materials, thus increasing the risk of exposure to its dangerous fibers. Exposure can result in serious illness, specifically mesothelioma, a rare and fatal form of cancer directly linked to asbestos exposure."
Whether a house was built before or after the 1970s, asbestos may be found in a number of different materials and products, as illustrated in the Sokolove Law infographic below. Areas in a home that may contain asbestos include:

Kitchen: Floor tiles, dishwashers, range hoods (ovens)
Living/Family Room: Recessed lighting, outlets, paint
Bathroom: Cement wallboard
Bedroom: Window putty, popcorn paint, insulation
Basement/Mechanical: Pipe insulation, HVAC duct insulation, furnace doors
Exterior: Roofing shingles, roof gutters, siding
Sokolove Law knows how to help victims of asbestos exposure get justice and compensation. The firm's nationwide network of mesothelioma attorneys helps provide equal access to justice and compensation –regardless of income or race. For more information about mesothelioma, legal rights and compensation, visit http://www.mesotheliomahelpnow.com.
About Sokolove Law
Sokolove Law provides quality legal services that help people obtain access to the civil justice system. With over 30 years of service, Sokolove Law has helped thousands of injured parties obtain the compensation they deserve from their legal claims. Major case types include mesothelioma, cerebral palsy and other birth injuries, nursing home abuse, dangerous drugs, disability insurance denial, and medical malpractice. Sokolove Law has 47 offices nationwide. For more information on Sokolove Law, please visit http://www.sokolovelaw.com or follow us on Twitter @SokoloveLaw.