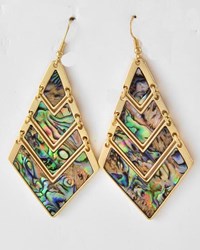 Glenview, Illinois (PRWEB) August 22, 2013
Our unique abalone earrings are truly amazing. Genuine Abalone Shell is coveted throughout the world for its beautiful colorations and shimmer with no two alike. The earrings are comprised of four hinged pieces secured with moveable elements. Each stunning piece projects natural sea shades of blues, greens, pinks and pearls. Set in a Deluxe Goldtone metal with its back textured and totally stunning. "The detailing is exquisite," said Marianne Crabtree, Director.
From simple to chic, denim to silk our abalone earrings adds a splash of color to any wardrobe. "Customer feedback tells us that the Abalone Earrings are popular for their unique design and fashion sense. The perfect coordinates to add to one's jewelry collection," adds Crabtree.
The entire line of products arrive beautifully gift wrapped.
Unique Jewelry and Gifts.com offers many different types of fashion jewelry including our pocket coins, charm bracelets, necklaces, brooches and special occasion gifts.
To learn more about the Abalone Earrings, or to browse our selection of fashion jewelry, please visit http://www.uniquejewelryandgifts.com