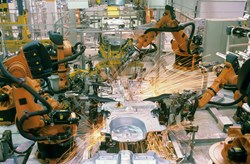 "Innovation without execution and profits is just an idea, and it is what keeps CEOs up at night," said Dermot Brannock, General Manager of Pcubed NA
New York, New York (PRWEB) August 22, 2013
Ford Motor Company, Whirlpool, Electrolux and Woodward, among other mature manufacturing companies, are seeking to transform their back-end operations to bring about new efficiencies and increased profits. Many of today's blue chip firms are putting a renewed focus on their back-end operations to embed innovation as an ongoing focus according to officials at Pcubed, a global management consulting company with regional headquarters in London, Ann Arbor, Sydney, and Singapore. Pcubed is advising many trusted names on the why and wherefore of this new and vital area of innovation.
In today's environment, there is constant pressure to reduce costs, increase efficiency, shorten product life-cycles, adhere to stricter regulations, create and promote sustainability, answer to social and market changes, and respond to customers' demands. "Innovation without execution and profits is just an idea and it is what keeps CEOs up at night," said Dermot Brannock, General Manager of Pcubed's North American division, referring to the intense pressure of technological development and the fear CEOs have: If they don't use technology as part of their new product development process, they will be slower to market and lose incremental value and their competitive edge over similar products in the market place.
In addition to these propelling factors, companies in North America have stockpiled over $2 trillion in cash since the last recession and shareholders are demanding that they put this to good use and get a good rate of return. Pcubed maintains that several of them are turning to back-end innovation to prioritize, align and manage R&D spend with their current product portfolio as well as customer and market demands. This is even more critical, especially given that recent studies show a limited correlation between R&D investment and revenue growth; noting instead that firms who are able to bring innovative new ideas to market quickly tend to achieve the highest organic revenue growth . One of the areas where Pcubed practices is to improve a company's speed-to-market to gain a competitive advantage. "It may well be that this (investment in back-end innovation) is where American companies could now gain an edge over global competitors as they have the cash to invest and can bring leading edge technology to market first" said Mr. Brannock.
Pcubed has worked with some of America's household name companies, including Ford Motor Company, Whirlpool, Electrolux, Woodward as well as Johnson Controls to help them innovate their back-end operations – aligning their IT and manufacturing operations to rapidly execute new initiatives and programs. In one example, Pcubed streamlined a company's data sharing capabilities, supporting better collaboration while saving millions of dollars and reducing the company's time-to market by 20 percent. In another example, Pcubed put Ford Motor Company's Escape Hybrid on an accelerated schedule, saving $9 million in engineering costs, thereby gaining a competitive cost advantage for itself and price advantage for its customers.
"The case of automotive suppliers is also a great example of how re-organizing companies' backend operations can drive technology and increase companies' competitive advantage by getting to market quicker and cheaper which increases margins," said Mr. Brannock. "One of our clients works in Sustainable Mobility Technology (SMT) to increase efficiencies around battery life cycles. We helped them create the environment to work on battery cell technology for two innovative programs and reduced the time to create a prototype from the typical two years to just seven months," he explained. Pcubed also helped Woodward Inc., a global company headquartered in Fort Collins, CO that creates top-notch electronic control systems for the aerospace and energy industries, to manage their portfolio of programs and resources for its Woodward Engine Systems: Woodward reduced its time-to-market by an estimated 25 percent.
Pcubed is positioning itself as a leader in the market concept "back-end innovation" and is targeting the manufacturing, telecommunications, oil and gas, financial services, healthcare, and the hi-tech sectors. The company was featured as a partner in Microsoft's recent white paper on innovation: Best Practices for Innovation: Microsoft's Innovation Management Framework that addresses the business imperative of innovation and the positive results coming about from companies honing their back-end operations.
Since its founding in March 1994, Pcubed has worked with 50 percent of the world's leading Fortune 100 companies, and eighty percent of Pcubed's business comes from existing relationships. Its key areas of expertise is in innovation, product development and program management including product lifecycle management (PLM), portfolio management, application lifecycle management (ALM), cost and complexity reduction and business change enabled by technology.
For further information on trends in innovation or Pcubed, please contact, Linda Lavine, Director of Marketing at Pcubed: linda.lavine(at)pcubed(dot)com