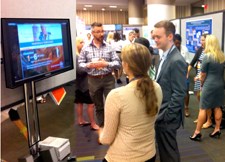 'This is the future of research poster presentations.'
John W. Robitscher, MPH
Atlanta, GA (PRWEB) August 30, 2013
For the first time ever, the National Association of Chronic Disease Directors and Bioscape Digital presented an interactive, digital poster at the National Conference on Health Communications, Marketing and Media in Atlanta, last week.
Both organizations were invited to present their joint work in the area of health literacy and instead of presenting a typical paper poster, they teamed up to replicate their iPad technology, on an oversized touchscreen television.
"We felt that it was simply a great opportunity to underscore the reason we had chosen technology to increase health literacy in the first place," said John Robitscher, CEO of the National Association of Chronic Disease Directors, adding, "this is the future of research poster presentations."
With funding from Ortho Clinical Diagnotics, both organizations developed a tablet-based, technology platform to increase communication and understanding of standard blood tests by doctors and their patients.
"We believe that the public will respond better to an interactive interface such as a mobile tablet, then just the typical informational flyer in the doctor's office," said Bioscape's CEO, Stuart Bracken.
That basic premise was the underpinnings of a hypothesis that patients would be better equipped to speak to their doctor about their blood test results if they received them prior to their annual physical. Typically, most clinics and doctor's offices order a standard panel of blood tests following a patient's annual physical and then mail them the results. "That order of procedure along with little information about the results, seemed counterintuitive to fostering improved health literacy," said Bracken.
Therefore Bioscape Digital developed highly realistic, graphical images and videos for the iPad, detailing the effects of high cholesterol and other blood maladies.
Conference attenders were able to walk up to the large touchscreen television and interact with the software exactly like a patient would in a doctor's office. The program included narrated videos, questionnaires and even a health risk assessment tool. People could also input their email addresses and request follow up email content about heart disease, diabetes and cancer if they desired.
"The day of paper posters just might be coming to an end, now that we can share our research with more engaging mediums of communication," said John Patton, Director of Communications for the National Association of Chronic Disease Directors.
The conference focused on health communication, marketing and the media, but only one poster was digital. Dawn Griffen, the conference manager, was immediately open to the idea of using an electronic poster and facilitated all of the necessary power and spacial logistics to accommodate the large flatscreen.