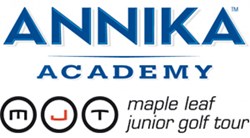 Orlando, Florida (PRWEB) August 22, 2013
The ANNIKA Academy – Hall-of-Fame golfer Annika Sorenstam's boutique golf instruction and fitness school – is coming to Canada to host a seminar for juniors interested in learning more about U.S. college golf scholarships.
It will be held Saturday, August 31, at Grey Silo G.C. in Waterloo, ON during the Maple Leaf Junior Tour's (MJT) Collegiate-Bound Series event.
ANNIKA Academy ELITE Training Program recruiter David Allibone will lead a presentation titled "Five Critical Factors When Considering U.S. College Golf." Discussion topics will include the overall college golf landscape, academic requirements, scholarship opportunities, and training and tournament preparation.
Mr. Allibone has extensive experience in this space. He joined the Academy earlier this year after spending the last decade as an instructor to gifted junior golfers.
"I am a major proponent of the benefits of collegiate golf and excited that David will have an opportunity to address MJT competitors," says Annika, who traveled from Sweden in 1990 to play at the University of Arizona where she was an All-American and NCAA Individual Champion. "Canada is a hotbed for junior golf and the MJT's focus on scholarship opportunities makes it an ideal partner for our Academy and the ELITE Program."
Further evidencing Annika's commitment to collegiate golf is The ANNIKA Award. Beginning in 2014 her ANNIKA Foundation, in conjunction with the Haskins Commission, will present it to the most outstanding NCAA Division I women's golfer.
Highlights of the ANNIKA Academy/MJT partnership announced earlier this year include an Annika-led skills clinic for competitors at the season-ending MJT Boston Pizza National Championship, Nov. 8-10, at Orlando's Reunion Resort.
The event field is by invitation only. Seventy-two competitors will be selected based on the MJT Cleveland Golf Order of Merit (OOM). Invitations will be extended the week of September 1 to the top Order of Merit-rated players in each province (determined by the best three OOM finishes divided by three).
The MJT is "the Road to College Golf" in Canada with 50-plus tournaments scheduled in 2013 for young golfers aged nine through 19. In addition to being the number one-played competitive circuit in the country for multi-day tournaments, it is the only program that offers a special rate discount for members for college golf consultations, live webinars, live Q&A chat sessions on college golf and an annual college golf consultation package award.
The ANNIKA Academy was founded in 2007 as a platform for the 10-time major champion to share her winning approach and passion for golf, fitness and nutrition. Its ELITE Program is a rigorous golf, fitness and nutrition curriculum for athletes who aspire to play at the collegiate and professional levels. The curriculum includes state-of-the-art swing analysis, fitness and nutrition education, tournament play and access to Reunion Resort amenities, including its Watson, Palmer and Nicklaus signature golf courses.
ELITE Program alumnae include Samantha Wagner, who recently competed for Team USA in the Junior Solheim Cup and has accepted a scholarship to the University of Florida, as well as Shannon Aubert, who competed for Team Europe and will attend Stanford University on scholarship this fall.
For more information about the MJT: http://www.maplejt.com, jrtour(at)maplejt(dot)com, 877.859.GOLF.
For more information about the ANNIKA Academy and ELITE Program: http://www.theannikaacademy.com, TheTeam(at)TheAnnikaAcademy(dot)com, 888.266.4522.
For more information about the ANNIKA Foundation: http://www.annikafoundation.org.
About the Maple Leaf Junior Tour (MJT)
The non-profit Maple Leaf Junior Golf Tour presented by Boston Pizza (http://www.maplejt.com) is Canada's number one played Junior Golf Tour as well as the only national junior tour run exclusively by PGA of Canada Professionals and the "Road to College Golf" in Canada. The organization is generously supported by Boston Pizza and Premier Partners Cleveland Golf, Srixon, Ford, Mr. Lube, Golf Town and Travel Underwriters, in addition to valued Tournament and Product Partners. The MJT hosts more than 60 events across Canada, including free Ford Go Golf Junior Clinics, the MJT Mini Tour for 7-12 year olds, and multi-day events for competitive players which also qualify juniors for international competitions. The program offers annual awards, scholarships, and frequent player incentives to help reward player's performance and participation throughout each season. MJT alumni include many Professional Tour players and PGA of Canada Professionals, as well as Canadian Amateur, National and Provincial Junior Champions. The MJT aims to develop champions, in golf and in life, promoting the game from grassroots through to provincial, national, university and professional level.
About the ANNIKA Academy
The ANNIKA Academy is a state-of-the-art, "boutique" golf school at Reunion Resort, near Orlando, Fla. It opened in 2007 as a way to share Annika's passion for golf, fitness and nutrition, along with her personal team of coaches. Their simple techniques allow players of any age, gender or skill level to reach their potential by transferring more energy and power from the gym to the course. The Academy is a Certified Callaway Performance Center with two spacious hitting booths that offer custom club fitting and video swing analysis. Complete with a modern fitness facility, conference room, and full-service locker rooms, the Academy provides individualized golf instruction, personalized fitness and nutrition programs, and custom corporate packages. Guests can play with Annika or learn the proven winning approach she established with her world renowned team of instructors.
About the ANNIKA Foundation
Annika created the ANNIKA Foundation as a way to teach children the importance of living a healthy, active lifestyle through fitness and nutrition, and offer aspiring junior golfers opportunities to pursue their dreams. The Foundation has partnered with key organizations to promote healthy, active lifestyles for children, including SPARK, Florida Hospital for Children in support of its Healthy 100 Kids initiative and The First Tee in development of the Nine Healthy Habits curriculum for children.
It annually conducts four major golf events for aspiring junior girls, including an award-winning AJGA tournament, ANNIKA Invitational at Reunion Resort in Orlando, Fla.; the ANNIKA Invitational at Mission Hills, the first all-girls junior tournament in China; the ANNIKA Invitational in Europe; and the ANNIKA Cup, a team event for the top juniors in Sweden. The Foundation awards SPARK grants to schools, is a financial supporter of Healthy 100 Kids and has endowed an ACE scholarship with the AJGA. Other key initiatives include ANNIKA Junior Day, the ANNIKA Inspiration Award and scholarships for aspiring Swedish juniors.