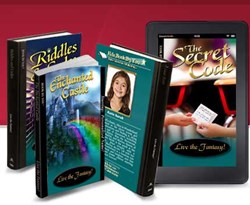 Keep the summer fun going with personalized books from BookByYou.com!
(PRWEB) August 22, 2013
Summer is over, and kids nationwide are shrugging on their back packs, lacing up their new shoes, and heading to the bus stop for a year of good ol' reading, writing, and 'rithmetic. Good thing Book By You has a great way to add a little spice to the daily grind! What kid wouldn't love a one-of-a-kind adventure starring themselves from the world's leading publisher of personalized books?
Book By You offers personalized children's books for every kind of kid. Mini musical prodigies will love Song Quest, packed with magic, music, and—naturally—a noble quest. In Two Children and It, a pair of friends get into all sorts of shenanigans with a grumpy wish-granting creature, and its sequel The Amulet will make the adventure last all through the school year! Aspiring detectives will devour The Secret Code, or relish Fowl Play, where they must solve a mystery AND prove themselves innocent in the process (plus there's a talking bird and a kooky but loveable scientist). The Golden Key is perfect for fairy tale lovers, and our short story collection, The Book of Dragons, will have little fantasy nuts going bananas for each personalized tale. For a more traditional route, Book By You carries classic personalized kid's books like Alice in Wonderland, Robin Hood, Peter Pan, and the exclusive, one-of-a-kind Fairytale Princess Collection, all sure to sweep any child off on the adventure of a lifetime.
Kids love seeing their own names in Book By You's personalized children's books, and for extra fun, add familiar people and places. The full-length book, with a special cover and one-of-a-kind uploaded picture, will excite and stimulate expanding minds and imaginations.
Book By You also offers personalized teen books. The latest release for teens, "Black Lace", features a young hero responsible for tracking lost souls and leading them to their eternal rest—but when he meets a mysterious young woman who binds him to her side with a web of black lace, a classic tale of forbidden romance unfolds. Kids Book By You offers all kinds of personalized kids books, including short story collections like "The Book of Dragons" and the "Fairytale Princess Collection", as well as novels like "Riddles and Codes", where grown-ups and kids can solve puzzles side-by-side as an enthralling story unfolds.
Book By You has something for everyone, and each personalized selection is available in professionally bound hardcover or paperback, as well as ebooks. Personalized ebooks are available for download immediately upon ordering. To make them especially personal, each ebook includes a free photo upload feature. Add a personalized dedication, and the result is a remarkable personalized ebook that can be taken anywhere and read any time.
Book worms ready to head back to school can personalize their selection by providing specific information like loved-one's names, features, even favorite drinks and places, and over twenty-five other unique characteristics to make their fantasy world a reality. A spouse, friends, and family, can be included, too. The result is a full-length ebook, paperback or hardcover that can be further personalized with a customized cover and individual photo for the back cover, making this the most unique gift imaginable.
To purchase a personalized book, readers go to the company's website at BookByYou.com and complete a character questionnaire specifying the information to be included in their book. The company offers a free demonstration area where readers can preview personalized excerpts from any of the company's teen, romance, mystery or children's personalized books.
BookByYou.com has received national media coverage and has been featured on ABC's The View, CNN, Fox News, The Wall Street Journal, Jimmy Kimmel Live and many additional media outlets.
BookByYou.com is an interactive publishing company and the world's largest provider of personalized books. Media interviews, promotions and giveaways are available upon request. Please contact Michael Pocock at 1-877-898-1440 or publish(at)BookByYou(dot)com.