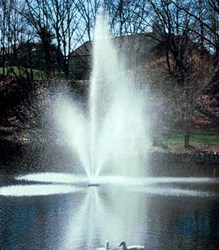 Santa Maria, CA (PRWEB) August 27, 2013
Fountain Mountain, Inc., a fountain pump and fountains company in Santa Maria, CA, began accepting all forms of credit cards for customers in 1999. It has never accepted Pay Pal, however.
Michael Guista, president of Fountain Mountain, believes it is time to supplement their regular shopping cart check out with the Pay Pal option. The problem, according to Mr. Guista, is that customers do not like to register new accounts. With Pay Pal this is already done.
Though wholesale sales continue to rise, the company has found online retail slipping the last year. Guista believes this is due to competition with the box stores, Amazon, and other retailers that accept Pay Pal. Customers already have Amazon, Best Buy, and Wal Mart accounts, so checking out is easy. No new registration is required.
Founded in 1999, Fountain Mountain was incorporated in 2005, with a commitment to offer energy-efficient pumps, lights, and fountains. A portion of all sales goes to CEERT, The Center for Energy Efficiency and Renewable Technologies. CEERT utilizes the team efforts of economists, scientists, lawyers, entrepreneurs and other groups to change policies and foster renewable resources.