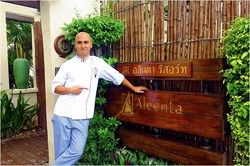 Hua Hin, Thailand (PRWEB UK) 29 August 2013
Aleenta Hua Hin-Pranburi Resort and Spa has turned its frying pans and burners over to celebrity Joni Anwar to ignite a new phase in the renowned entertainer's career.
Mr Anwar will take up residence at Aleenta for a month from August 1st, 2013, and will become a part of resort's Resident Manager James Noble's ace culinary team, culminating with the Hua Hin Food Festival.
Having spent his early years making television and cinema appearances as one half of Thai rap duo 'Raptor', Mr Anwar has laid down his microphone for the time being, turning his attention to other pursuits including wakeboarding (a sport in which he regularly represents Thailand during the X Games) and now cooking.
Mr Anwar said he was tremendously excited about the opportunity to learn new skills and carve out a fresh career path, having attained the heights of Thailand stage and screen fame.
"Cooking is the new rock and roll," Mr Anwar said. "And nobody rocks the house like James and his crew. On my first trip to Aleenta last year, they blew me away with their interpretive Thai cuisine and their commitment to organic farming and community involvement."
"I had one of those moments of clarity you normally only see in the movies: I am crazy in love with cooking and cuisine and I am grateful to Aleenta and James and his team for giving me this leg-up to a new phase in my career."
Aleenta Hua Hin-Pranburi Resort and Spa is the first resort created by AHMS (AKARYN Hospitality Management Services), located on a pristine stretch of beach on serene Paknampran Bay just three hours from Bangkok. It unites tropical beachfront bliss with a warm, welcoming and utterly comfortable ambience that draws guests back time and again.
Organic cuisine is served at the newly opened The Cellar restaurant, which utilizes produce from the resort's 16-acre organic community farm, where locals can eat and pick for free in return for their time and effort to replant.
Mr Noble said he was delighted to have Mr Anwar in residence and in the kitchen, and said the entertainer wouldn't receive and didn't expect any 'kid gloves' treatment.
"Joni is truly passionate about learning the arts of cooking. This wasn't an overnight decision. He attended Le Cordon Bleu in Bangkok last year and aced his course. He is using Aleenta Hua Hin as a base to learn classic, grow-your-own cuisine and then showing modern techniques in a traditional style of cooking."
"He first discovered Aleenta when he came down for a friend's wedding and was excited about our interpretive Thai cuisine. We formed a friendship and he and his mum have been down to play in our kitchens and learn, but his residency will take things to a new level and give him the grounding and skills he needs to do this seriously as a career."
"Joni will also develop a signature dish that will stay on the menu at The Cellar as a testimonial to his time with us."
Mr Anwar said he was passionate about sustainable cuisine and excited to also have a hand in Aleenta's new organic LCF wine cellar. It's part of The Cellar restaurant, which will be the main focus of Mr Anwar's residency at Aleenta Hua Hin-Pranburi.
"But we will be working him hard," Mr Noble said. "He will be working on at least three weddings and other functions as well as the day to day work that goes with running two busy restaurants."
Mr Noble said Mr Anwar, who is on record as saying "I want a James Bond life that has adventure, that sees me flying around the world and living on the beach" might also become a member of the exclusive Aleenta Hua Hin-Pranburi Gourmet Gliders club, which apart from learning cooking secrets entails a thrilling flight over Pranburi in a Paramotor.
Dine at The Cellar and enjoy fine organic dining touched by the hand of Joni Anwar from August 1st to 31st, 2013. Aleenta's signature Thai sushi and instant ice creams will be featured at the Hua Hin Food Festival, 29th - 31st August, 2013.
The Cellar offers simplicity in its true form, with dishes including Rose Apple Waldorf, Thai Scotch Egg, Pranburi Prawn Cocktail, Potted Shrimp & Rye, Fish & Hand Cut Chips, Butter de Pranburi Duck Fat Chips, and Chicken Saltimbocca, wilted greens and risotto Milanese.