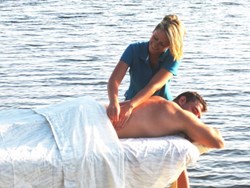 She provided the best massage I've ever had, hands down.
Destin, FL (PRWEB) August 24, 2013
TripShock.com has teamed up with an experienced spa professional to offer Mobile Massage Therapy to customers who book appointments online through the travel agency.
Jen Townsend, a licensed and insured massage therapist with extensive experience in the spa industry, operates Mobile Massage Therapy in Destin, FL. She sets up a relaxing spa environment in customers' homes and condominiums and performs an array of massage therapies based on individual needs.
Therapies that promote health and wellness include Deep Tissue Massages, Swedish Massages, Pregnancy Massages, Reflexology, Shiatsu Massages, and Customized Massages.
Massages range from 30-90 minutes and appointments are accepted daily from 9am to 6pm. Jen provides massage equipment and oils so that customers can enjoy the benefits of going to the spa without ever leaving their vacation spot. A twenty percent gratuity is customary.
"What can I say, loved, loved, loved it! So relaxing and wonderful. She hit all the right spots. Did [the massage] in the back yard by the pool with birds singing and her expert hands doing what she does best. Her massage is fantastic." –TripShock Traveler Review
"Three of my friends and I took a short trip to Destin and were in great need of some relaxation. We contacted Jen through TripShock and were truly amazed at the service. I am a challenge for most therapists, and my issues did not seem to faze Jen. We have all had massages by various therapists over the years. Jen was the best." –TripShock Traveler Review
"Jen came out to my house …and provided massages for me and two of my girlfriends. It was a perfect ladies day. She provided the best massage I've ever had, hands down. She was prompt, professional, and friendly. She really knows her stuff. I will be calling her back often." –TripShock Traveler Review