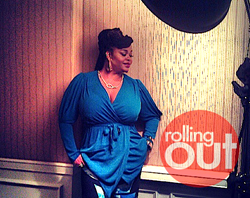 Atlanta, GA (PRWEB) August 22, 2013
For nearly 15 years, Rolling Out has given its readers exclusive access to the cream of the crop in black entertainment – Hollywood, music and beyond. This fall will be no different. We're excited to continue that commitment.
For fall 2013, we promise to deliver artful, innovative and entertaining issues that highlight headliners including stunning actress Paula Patton, brown sugar and spice Jill Scott, two of Hollywood's hottest hunks: Derek Luke and Boris Kodjoe, and lastly, witty lyricist Big Sean, who each have management teams as nimble and dedicated as us to keep our community's appetite satiated with quality editorial.
With Rolling Out's sports and entertainment editor Amir Shaw and celebrity photographer DeWayne Rogers at the helm, readers are in for a delectable treat of inside scoop, firsthand accounts and secrets of the creative, aspirational and famous.
Visit rollingout.com for updates on the release of these cover stories. Be sure to check out prior photo shoots and exclusive video footage produced and created by Rogers and written and directed by Shaw.
About Rolling Out Magazine:
Rolling Out, the nation's largest free urban weekly, is a digital and print magazine that focuses on the black experience in response to entertainment, politics, fashion, culture, sports and lifestyle points of interest. Headquartered in Atlanta, Rolling Out is positioned as the voice for the African American experience, using its newspaper as a platform in the marketplace to express urgency for education reform, and to document entrepreneurial endeavors and other relevant issues in the Diaspora. For information on Rolling Out, please log on to rollingout.com.