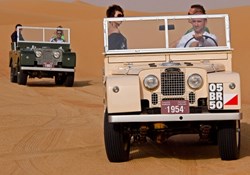 We are thrilled that our corporate partners and guests have the opportunity to experience the history, warmth and hospitality of the Emirati culture
Dubai, United Arab Emirates (PRWEB) August 24, 2013
Platinum Heritage Tourism, a boutique safari company offering authentic safaris in museum quality 1950's Land Rovers and luxury safaris in ultra-prestigious Mercedes G-Wagons into the Dubai desert is excited that their innovative approach to showcasing the heritage and culture of the United Arab Emirates has been recognised.
"We are honoured to be included in such a prestigious award category which awards innovation and creativity. More importantly, we are thrilled that our corporate partners and guests have the opportunity to experience the history, warmth and hospitality of the Emirati culture which is far too often overlooked in a city better known for having the newest, biggest and most extravagant," said Platinum Heritage' Managing Director Adam McEwan.
This award nomination follows five consecutive months as the top ranked activity on the world's largest travel website, TripAdvisor; an unprecedented achievement for such a young entrant into the massive Dubai tourism industry. Platinum Heritage cited a slew of innovations and world firsts required to differentiate their experience amongst an abundant and intimidating list of competitors. These include; offering the largest fleet of 1950's Land Rovers in active service in the world, offering safaris in ultra-luxurious Mercedes G-Wagons, arranging breakfast in the desert with local Bedouins, using night-vision binoculars for the countries first ever night safari and also operating the countries first solar powered desert safari camp.