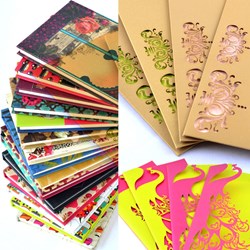 (PRWEB) August 24, 2013
India Circus, the contemporary-chic home decor, lifestyle, apparel, and personal accessories label by well-known designer Krsna Mehta, has launched a new range of notebooks and, for the very first time, a variety of gift cards and envelopes too. The festive season is almost here, and with this exciting introduction, India Circus intends to take the gifting experience to a whole new level.
India Circus' all-new gift cards and envelopes come in a variety of striking colors and designs, adding to the joys of the festive season. The gift cards have a number of themes, from floral designs to ethnic Indian prints. The envelopes, too, are stunningly beautiful. Would you have ever imagined that the modest envelopes can have some truly state-of-the-art cut-work designs on them? The new delicate and dainty envelopes by India Circus have gorgeous intricate cut-work designs on them. In addition, there are envelopes with embossed pattern enhanced by bright, pop colors.
The notebooks are in many ways an extension to India Circus' old design sensibilities, with a special new touch to them. These never-seen-before designs (think, the love story of two trees, or a pretty rose staring at you from the garden of the Mughal palace, or perhaps the light of the lamps) further add to the existing extensive range of India Circus' notebooks.
Gift cards and envelopes as lovely as these undoubtedly complement, and, in fact, augment the charm of a present even further. And, indeed, notebooks as exquisite as these can inspire just anyone and everyone to write some memorable stories and poetry in them.
To know more about the latest India Circus Fall/Winter 2013 Collection, visit http://indiacircus.com/new/.