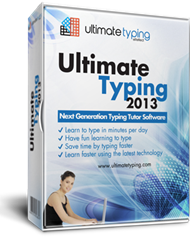 ...the earlier a person is exposed to touch typing, the sooner their typing skills will be perfected.
New York City, NY (PRWEB) August 27, 2013
Ultimate Typing™, a typing skills improvement software, is designed by experts to help children as young as 6 to learn to type in an easy-to-use, supportive learning environment. As a company representative stated today in a brief announcement, eReflect just launched the latest 2013 version of Ultimate Typing™ software with major improvements and additions, one of which is an improved adaptability to different ages and learning demands. eReflect commented today that the learning typing software has been enriched with features that focus on the needs and interests of children, like games appropriate for younger learners and practice activities designed to ensure that children can learn to type with a software that prioritizes skill acquisition through interaction and fun. According to eReflect, the earlier a person is exposed to touch typing, the sooner their typing skills will be perfected. The idea is that today's 5 and 6-year olds will be surrounded by tasks and activities revolving around touch typing, and therefore having the necessary typing efficiency will ensure these tasks will be easily and quickly completed.
Touch typing with Ultimate Typing™ software is especially easy for children because of its approach and design, as eReflect emphasized today. The typing program offers step-by-step, easy to follow video tutorials that guide the learner through the learning process, providing consistent support and guidance, ensuring the young learner has no knowledge gaps. The video tutorials use easy to understand language, a particularly important characteristic when the user is a young child. Through engaging video presentations of the theory around touch typing young, learners can absorb the theoretical knowledge on typing and then instantly apply it through a series of engaging and fun activities.
Additionally, eReflect noted that during the latest software upgrade, the designers paid particular attention to the development of accessible, interactive, and enjoyable set of children's typing games to ensure that young learners are kept engaged and happy throughout the learning process. Ultimate Typing™ developers explained that the latest 2013 version of Ultimate Typing™ has been created based on the most recent touch typing strategies and methodologies, making the software a great solution for initiating young children in the art and necessary skill of touch typing.
For more details on Ultimate Typing™ please visit http://www.ultimatetyping.com/.
About Ultimate Typing™
Ultimate Typing™ software is designed specifically for the improvement of typing skills. Created by eReflect, a world leader in e-learning and self-development software, Ultimate Typing™ has been informed by the latest developments in the science of touch typing.
Since its creation in 2006 by Marc Slater, the company has already catered to over 112 countries all over the world, offering products with the latest cutting-edge technology, some of which are among the world's most recognized and awarded in the industry.