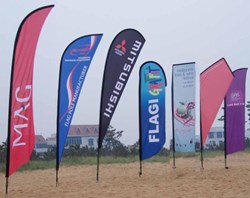 (PRWEB) August 22, 2013
CKFlag.com launched its new designs of feather banners, small flags and teardrop banners in June, 2013. According to the company's marketing department, these new products sell very well in the USA market. The company has announced a special offer, up to 39% off, on all its feather banners and teardrop banners, and the promotion is valid until Sept. 15, 2013.
To view the best small flags, feather banners and teardrop banners from CKFlag.com, please visit: http://www.ckflag.com/cheap-custom-small-flags-wholesale/.
According to the CEO of the company, the quality of their small flags, feather banners and teardrop banners go through a rigorous evaluation process, and only the best quality products can be presented to the USA customers. The designers keep an eye closely on the latest fashion trends in order to account for the latest developments in the industry.
"We have many fashionable designs and products for our clients. Each design showcased on our website has been put through a rigorous examination to determine how well it does compared to industry standards and other companies' products. Now, it's quite simple to find one that is suitable for you in just the right way."
With the fast growth in the recent years, CKFlag.com has been considered by many clients as a leader in custom feather flags, teardrop banners and other custom flags.
About CKFlag
Founded in 1995, CKFlag is a professional flag manufacturer from China, offering a full range of high-quality, low-price flag products and services. Its customers come from many countries all over the world. The company aims to offer its customers more choices with affordable prices, and they accept customer's own designs as well.
For more information, please visit: http://www.ckflag.com/.