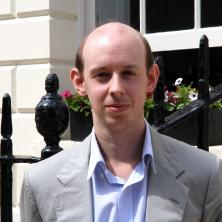 London, UK (PRWEB UK) 22 August 2013
New College of the Humanities (NCH) announces today that Dr Peter Maber will join the English faculty as Lecturer in English. He will be working closely with other members of the English Faculty including Dr Catherine Brown and Professor Sir Christopher Ricks. Dr Maber will teach elements of the core English BA Programme.
Dr Maber studied for his PhD under Professor Anne Barton at Trinity College, Cambridge and he has since then taught English and American literature at the University of Cambridge. He writes regularly about art for The Times Literary Supplement. Dr Maber is also a composer and a great deal of his research examines the connections (and disjunctions) between literature, the visual arts, and music.
Dr Maber was a major contributor to The Shakespeare Encyclopedia: Life, Works, World, and Legacy, edited by Patricia Parker, 5 vols (Greenwood Press, in press). In 2010, he also published William Marshall: Organic Vision and wrote the chapter 'John Berryman and Shakespearean Autobiography', in 'After thirty falls': New Essays on John Berryman, ed. Philip McGowan and Philip Coleman (Rodopi, 2007).
Dr Catherine Brown, Convenor and Senior Lecturer in English, said, "The English faculty is looking forward to Dr Maber joining the College. The study of American Literature is an integral part of the English BA and Dr Maber's expertise, and decade-long experience of the Cambridge tutorial system, will be invaluable."
A C Grayling, Master of New College of the Humanities, said: "We are pleased to welcome Dr Maber to the growing English faculty at New College of the Humanities. He will add greatly to its strength and breadth. In addition to their degree studies, English students at NCH have the opportunity to study four modules in another degree subject as part of the College's broader liberal arts curriculum; Dr Maber's wide interests will make a substantial contribution in that respect."
The College still has places available for the English BA programme commencing in September 2013.
Ends
For further information, please contact:
Desi Lyon
T: 0207 400 7398
E: desi.lyon(at)nchum(dot)org
Notes to Editors
New College of the Humanities (NCH) offers a new model of higher education for the humanities in the UK. NCH students enjoy one of the best staff-to-student ratios in UK higher education and benefit from a high number of quality contact hours including engaging and challenging one-to-one tutorials.
Our professors are international experts in their fields and our full time academic staff members have been selected for their proven ability in teaching as well as for their research interests.
NCH welcomed its first intake of students in September 2012 and prepares students for undergraduate degrees in: Economics BSc; English BA; History BA; Law LLB and Philosophy BA. The Politics & International Relations BSc will be offered from 2013.
In addition to their 12-module single honours undergraduate degree from the University of London, all NCH students study a further eight modules. This is comprised of four modules from another degree subject or Art History, or Classical Studies as a contextual course and three core modules in Applied Ethics, Logic & Critical Thinking, and Science Literacy, plus the College's three-year Professional Programme.
The College is centrally located in Bloomsbury, London's university district and students, as associate members of the University of London, have access to many of the resources of the University of London: the exceptional library in Senate House, the University of London Union, sports facilities, and many other opportunities to enrich themselves through extra-curricular activity.
The College's rolling applications process is independent of UCAS and applications can be made in addition to the five UCAS choices and can still be made for entry in 2013. Visit http://www.NCHum.org or call 020 7637 4550 or all enquiries and applications.