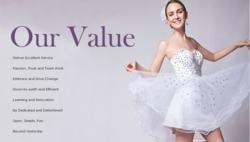 (PRWEB) August 22, 2013
Last month, MyDressCity, a well-known dress manufacturer and retailer, has released its new junior bridesmaid dresses (http://www.prweb.com/releases/2013/7/prweb10905425.htm). Today, the company announces big discounts, up to 59% off, on these dresses. The promotion will last until the end of this month.
The new designs of junior bridesmaid dresses have helped MyDressCity.com to become a leader in the market, and the company recently has gotten a lot of inquiries for its products and services.
"We are happy to announce the promotion to expand our overseas market. The new dresses are featured with trendy styles and delicate craftsmanship. The discount is up to 59% off, and this is the first time that we launch a site-wide bridesmaid dress promotion in a big scale," says a spokesman for the company.
MyDressCity.com provides over 1 million women access to their online shop, which specializes in elegant prom dresses, night club dresses, little black dresses, lovely cocktail dresses, Muslim wedding dresses, etc. In addition to the dresses involving the trendy dresses, the company is developing a wide range of fashion accessories as well, and aims to provide the best women's dresses to its customers worldwide.
About MyDressCity
MyDressCity specializes in the manufacture and retail of all kinds of women's dresses. The company is a forward-thinking firm, and its goal is to make women feel confident, sexy, and contemporary. MyDressCity is trying to offer its customers more choices with affordable prices, and they accept customer's own designs as well.
For more information, please visit http://www.mydresscity.com/junior-bridesmaid-dresses_c26