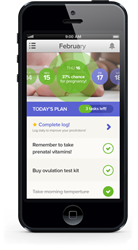 Rockville, MD (PRWEB) August 22, 2013
Shady Grove Fertility is pleased to announce its participation with GLOW, a new technology app designed to help families solve fertility issues including the costs of treatment. GLOW is the brainchild of PayPal co-creator Max Levchin.
In addition to GLOW's insightful mobile application there is also Glow First, which is described by the company as "a not-for-profit fund that women can elect to participate in, designed to help offset the high cost of fertility treatments. Participants contribute $50 each month for 10 months into a designated pool, which is divided equally amongst any participants who did not achieve a natural pregnancy after 10 months of actively trying to conceive while using the Glow app." Chairman and Co-founder Levchin has already donated one million dollars to the fund.
This marks a strategic alliance that will target a new generation of patients facing fertility challenges while increasing education to anyone with a smart phone. As part of Shady Grove Fertility Clinic's affiliation with the GLOW app, potential users will greatly benefit from one of the nation's leading centers with extensive medical expertise and longstanding leadership in fertility solutions.
About Shady Grove Fertility: Shady Grove Fertility is America's largest and most progressive fertility center performing over 6,000 IVF cycles, including over 1,000 egg donation cycles, and nearly an equal number of ovulation induction and IUI cycles annually. Twenty-eight reproductive endocrinologists as well as PhD scientists, geneticists and 480 highly specialized staff care for patients in 16 full-service offices and 5 satellite locations throughout the Baltimore, Philadelphia and Washington, DC metropolitan areas. Shady Grove Fertility offers a comprehensive range of fertility treatment options including Ovulation Induction, IUI, IVF, and Donor Egg as well as resources to comprehensively address patient's needs - medical, emotional, and financial. For patient convenience IVF retrievals and transfers are now performed in our Rockville, Towson and Chesterbook locations. http://www.shadygrovefertility.com/
GLOW was founded by Max Levchin, formerly of PayPal, as well as Mike Huang, co-founder, CEO; Chris Martinez, co-founder, business & strategy; Kevin Ho, co-founder, product; Ryan Ye, co-founder, technology, and is a data science company redesigning health insurance. It was founded in January 2013 and is headquartered in San Francisco, California. More information about GLOW is available at: https://glowing.com/.