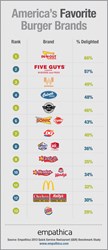 Toronto, Ontario, Canada (PRWEB) August 22, 2013
Empathica Inc., a leading global provider of Customer Experience Management (CEM) solutions to the world's most respected multi-unit enterprises, releases today burger brand findings from the 2013 Quick Service Restaurant (QSR) Benchmark Study, which surveyed 10,000 US consumers and determined brand rankings in categories such as food, staff and atmosphere, as well as the drivers behind social media engagement and loyalty.
American burger brand guests were asked to rate their recent visit to a burger chain on a number of factors, and a "percent delighted" score was calculated by averaging ratings of overall satisfaction, likelihood of revisiting, value for money paid and likelihood of recommending. The Benchmark then ranked America's top QSR burger brands from highest percent delighted to lowest.
1. In-N-Out Burger – 66%
2. Five Guys – 57%
3. Whataburger – 49%
4. Culver's – 48%
5. Steak 'n Shake – 46%
6. Krystal – 43%
6. Sonic Drive-In – 43%
8. Dairy Queen – 40%
9. Jack in the Box – 36%
9. White Castle – 36%
11. Carl's Jr. – 35%
12. Hardee's – 34%
12. Wendy's – 34%
14. McDonald's – 32%
15. Checkers – 30%
16.Burger King – 29%
Findings show that the top three burger brands by sales(1) – McDonald's, Burger King and Wendy's – are ranked at or near the bottom of guest satisfaction in almost all categories including food, staff, menu and atmosphere. These results demonstrate that a high number of locations and visits do not necessarily lead to high customer satisfaction – a key driver in customer loyalty.
"Our findings reveal that the top drivers of burger chain visits include speed, price and menu followed by portion, staff and promotion," said Dr. Gary Edwards, chief customer officer, Empathica. "However, these are not the same drivers of customer satisfaction. The ultimate goal for location managers is to keep their guests coming back. Most QSR burger brands are delivering a good product to guests, but this is table stakes in driving customer delight. To achieve this goal, burger QSRs must provide a continually exceptional experience in addition to a great-tasting, quickly served food item. Conversely, the smaller specialty burger chains like In-N-Out Burger, Five Guys and Whataburger do a consistent job on both product and service quality."
Americans Rank Top Factors in Burger Chain Preference
Benchmark results show factors important to Americans when selecting a burger QSR for dine-in, take-out and drive-thru experiences. Food taste was the top factor in each dining experience category, while menu variety was least important when making a burger chain choice. Americans continually cite "felt valued" and "attentive staff" as important factors when making their burger chain selection. Guests rely on previous experiences when selecting a burger QSR, whether they select a dine-in, take-out or drive-thru option.
Empathica findings reveal marked differences in customer satisfaction for several QSR burger brands between lunch and dinner dining. While In-N-Out Burger and Five Guys held strong at the top two rankings for both meals, Krystal dropped from ranking seventh during lunch to fifteenth at dinner. Jack in the Box had an opposite switch, moving from thirteenth at lunch to sixth during dinner.
"Interestingly, several brands are really failing to deliver what customers expect across occasions. It is critical that brands deliver a high quality, consistent experience regardless of whether the guest comes into a location in Dallas for lunch or a late night snack in Des Moines," said Edwards. "We know that customer loyalty is the sum of all their experiences with the brand, so consistency really is king – customers have to know what they are getting, regardless of location or occasion."
"The burger chain Benchmark results are consistent with what Empathica has found in our overall QSR findings," said Edwards. "It's clear that location number and size do not equate with high customer satisfaction. National burger chains need to focus on improving the little things that make a guest's experience exceptional, as well as making it seamless throughout the time of day or occasion choice."
To receive upcoming 2013 Empathica QSR Benchmark Study results and reports, subscribe to http://cem.empathica.com/subscribe-to-new-consumer-insights.
About the 2013 Empathica Quick Service Restaurant Benchmark Study:
The Empathica Quick Service Restaurant (QSR) Benchmark Study launched in March 2013 and surveyed 10,000 US consumers on the top 62 QSR brands. The Benchmark measured food, order accuracy, speed of service, staff, value, cleanliness, atmosphere and menu for QSRs that guests had visited in the past 30 days. The survey also gathered the drivers behind loyalty for a QSR and for social media advocacy. Results, led by Dr. Gary Edwards and Empathica's research team, were published in July 2013. The Benchmark has been weighted to reflect latest Census distributions in the US, including region, gender, age and income.
About Empathica:
Empathica is the leading provider of social Customer Experience Management (CEM) programs to the world's most respected multi-unit brands in the retail, food services, automotive and hospitality sectors. Its rich analysis of survey data using state-of-the-art surveying and dashboard reporting software allows for performance-improvement solutions, evidence-based marketing insights, and customer experience management consulting. Annually, Empathica's 30 million customer surveys in 25 languages reach more than 80,000 locations in over 50 countries. A privately-held organization, Empathica is headquartered in Toronto, Canada with executive consultant offices throughout the United States and a European office in Birmingham, England. For more information about deriving actionable insights that enhance a brand's operational excellence, visit Empathica at http://www.empathica.com.