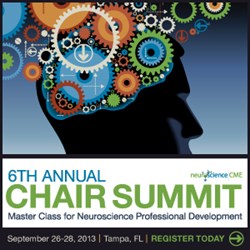 Bethesda, Maryland (PRWEB) August 22, 2013
CME Outfitters (CMEO) in collaboration with University of Miami Leonard M. Miller School of Medicine is proud to announce that the American Board of Psychiatry & Neurology (ABPN), a Member Board of the American Board of Medical Specialties (ABMS), has certified two Maintenance of Certification (MOC) sessions in Alzheimer's disease and multiple sclerosis that will be offered at the 6th Annual Chair Summit. As Maintenance of Certification (MOC) is gaining importance by insurers, government, hospitals, and credentialing organizations, it is more important than ever that MOC opportunities are available to physicians and clinicians worldwide. In an effort to help advance the standard of specialty medical care, CME Outfitters is offering these MOC sessions that will be lead by esteemed faculty. These sessions will provide timely evidence-based discussion and updates on multiple sclerosis and Alzheimer's disease clinical guidelines.
"The staff and faculty here at CME Outfitters develop our education with one common goal in mind, and that is to improve patient care. Offering Maintenance of Certification to our learners is a major asset to Chair Summit, as it provides an edge to all clinicians and physicians in attendance who have the unique opportunity to truly improve routine clinical practice and patient care," said Beth Brillinger, CCMEP, Director of Accreditation at CMEO.
Chair Summit offers direct access to the nations leading experts in psychiatry, neurology, pain, and primary care. With combined insights from the leading experts, in-depth needs research, and health care community surveying, CMEO and University of Miami Leonard M. Miller School of Medicine has produced a comprehensive curriculum for all attendees.
Chair Summit pre-registrants will receive detailed information about the MOC sessions via email as the conference nears. Those interested in receiving their Maintenance of Certification in Alzheimer's Disease and/or multiple sclerosis may visit the Chair Summit website to register for the conference.
For more information about MOC, please visit http://www.abms.org/maintenance_of_certification/ or http://www.abpn.com/moc_psych.asp .
About CME Outfitters, LLC
CME Outfitters (CMEO) is a leading accredited provider in continuing medical education. CMEO develops and distributes live, recorded and web-based, outcomes- and evidence-based educational activities to thousands of clinicians each year and offers expert accreditation and outcome services for non-accredited organizations. CME Outfitters focuses on delivering education to specialty audiences, with strong expertise in neuroscience, inflammatory, infectious, and autoimmune diseases, and cardiovascular disease. For a complete list of certified activities and more information, visit http://www.cmeoutfitters.com or call 877.CME.PROS (877.263.7767).
"CME Outfitters …
Improving Clinical Behavior … One Change at a Time"