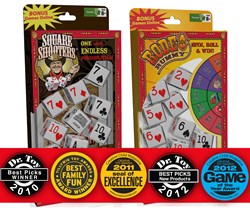 Cleveland, OH (PRWEB) August 23, 2013
The world's first deck of cards on dice has already sold more than 200,000 copies to action-loving players of all ages. Made by a Cleveland-based company and rolling into Walmart and Walgreens for almost two years, Square Shooters now adds Target Stores to its list of national retailers in 2013. The game has something for everyone, from busy teens to party players to moms & dads. Rodeo RummyTM, a new cards-on-dice game geared for families, joins Walmart's game assortment for 2013's holiday season.
Square Shooters is the most authentic poker-matching dice game ever (http://www.squareshooters.com). The game features nine patented dice which include all 52 playing card faces and 2 jokers, specially arranged so you can achieve all of the goals for games like poker and rummy. Now you can roll every four-of-a-kind, rummy run and straight flush. The game's challenge is to match a real poker hand in three rolls or less, trumping common poker-dice games which depend upon plain dotted dice.
Building on the success of Square Shooters® and seeing an opportunity to make a second game using cards-on-dice that appeals to families with younger children, Heartland created Rodeo Rummy . Rodeo Rummy features the same patented dice, but now the task is to spin, roll and win by matching rummy hands (http://www.rodeorummy.com).
"Games based upon a deck of playing-cards are the most popular games of all time," says Tom Donelan, Heartland's CEO. "Turning classic favorites like poker and rummy into an action-packed dice game is a fun job for us."
The toy trade agrees, honoring Square Shooters and Rodeo Rummy with a combined six awards including a "Game of the Year" award for Rodeo Rummy from Creative Child Magazine.
Heartland's Marketing Director, Amber Dickens, says, "The game design possibilities with Square Shooters are as endless as with a deck of cards. Our first two titles are based upon the most popular playing-card games because game players tell us they love the new dynamics that dice can bring to their traditional favorites.
The Square Shooters dice were developed and patented by Carmelyn Calvert, a grandmother of seven from Eldred,IL. Carmelyn knew that cards-on-dice would only be marketable if they could achieve the goals of most card games, and her special layout of card faces on the dice met that goal.
Both Square Shooters and Rodeo Rummy sell for $9.99 - $12.99.
About Heartland Games
"Bringing People Together" is a mission that Cleveland-based Heartland Games aspires to achieve through products that fuel the fun when families and friends get together. For more information, visit http://www.squareshooters.com.
Square Shooters® is a registered trademark of Carmelyn Calvert. The Square Shooters® game is copyrighted by Carmelyn Calvert. Both trademark and copyright are under license by Heartland Consumer Products, LLC Rodeo RummyTM is a trademark of Heartland Consumer Products, LLC. All Rights Reserved.