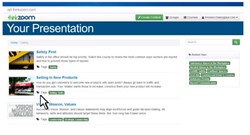 Take workplace compliance, with the average EEOC claim now at almost $475,000, it is irresponsible for companies to leave themselves open to that type of risk.
St. Louis, MO (PRWEB) August 22, 2013
Today ej4, LLC, a leader in the performance improvement industry, announced public access to their new knowledge sharing platform, Thinkzoom, through a brand new trial campus.
This expanded trial campus will allow users to utilize Thinkzoom both as a knowledge sharing platform, as well as a video authoring tool.
As a knowledge sharing platform, users will have access to ej4's award-winning eLearning content on topics like safety, sales training, compliance, and more. Employees can watch short, tactical video lessons on their computer or mobile device when and where they need the information.
The ability to customize these off-the-shelf courses with Thinkzoom as a video authoring tool makes this the perfect learning asset for small to mid-sized businesses without a designated training department. ej4 CEO Ryan Eudy said, "Custom content doesn't have to be expensive or out of reach. Using Thinkzoom, companies can record their own custom video message, or add their voice to existing ej4 courses. Addressing their unique needs and issues head on with custom content is what makes or saves companies money."
Expanding on that concept, ej4 CMO, Rick Michael said, "The ability to target communication and training will make and save companies money. Take workplace compliance, with the average EEOC claim now at almost $475,000. It is irresponsible for companies to leave themselves open to that type of risk, especially when they can avoid that exposure for a fraction of that amount. With Thinkzoom, companies can take existing ej4 workplace compliance training and customize it to specifically target their needs and concerns."
Thinkzoom is more than a learning management system (LMS), it's the platform for quality content that's easy to access and even easier to administer.
The primary function of ej4 is to help companies solve problems that directly affect the success of their business. From sales managers who need to teach their staff to handle objections, to the growing small business who often doesn't know what they don't know about training, compliance, hiring and firing - all the skills need to grow and thrive.
With a 15-day trial, prospects get access to a sampling of off-the-shelf content, full use of the video authoring tools, and hundreds of digital book summaries of popular business titles.
At ej4, the goal is to build better communication and performance at work. Thinkzoom is the tool to accomplish both.
Join the thousands of satisfied customers from Fortune 100 to small, local businesses that use Thinkzoom and start your 15-day trial today. To learn more about ej4, visit http://www.ej4.com/.
About ej4, LLC
Simply stated, ej4 is performance improvement that works. As one of the largest eLearning and performance improvement consultant services organizations in the nation, ej4's performance improvement solutions include custom elearning, online knowledge sharing and video presentation development tool, off-the-shelf eLearning, book summaries, and consulting services. ej4 was founded in 2003, with offices in St. Louis, MO and Kansas City, MO.