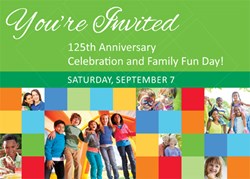 Charlotte, NC (PRWEB) August 22, 2013
In honor of its 125th Anniversary, Alexander Youth Network is opening its treatment campus in Charlotte to the community for the 125th Anniversary Celebration and Family Fun Day, Saturday, Sept. 7 from 10:00 a.m. to 2:00 p.m. The day will feature free food, music, games and activities, as well as interactive exhibits about Alexander's history since its 1888 inception as a women's and children's rescue mission. Today Alexander Youth Network helps children with emotional challenges at several locations throughout the state of North Carolina, but the Family Fun Day will occur exclusively on the Treatment Campus (6220 Thermal Road, Charlotte, NC 28211). Information is available at http://www.alexanderyouthnetwork.org/fun.
As the leader in children's behavioral healthcare, Alexander Youth Network's Treatment Campus was built with kids in mind with a low-ropes course, swimming pool, playground, pottery studio and much more. The public will receive a unique opportunity to see how thousands of children are healed each year using Play Therapy. Therapists will be on-hand to show the community how we help children relax and self-regulate by walking the labyrinth and playing drums. Event-goers will not want to miss a demonstration of therapeutic techniques and the Neurosequential Model of Therapeutics™ at 10:00 a.m. and 1:00 p.m. To learn more about NMT, visit http://www.alexanderyouthnetwork.org/nmt.
For all children and "kids at heart" Alexander Youth Network will offer carnival games including a ring toss, milk bottle throw, Plinko and Cornhole. Volunteers will be on-hand for face painting, and there will be a special "junior DJ" who will provide music for the crowd. The Charlotte Hounds will drop by for a visit, and real canine companions will demonstrate the value of Pet Therapy in a cute and cuddly way.
The main attraction will be the 125 years of history of Alexander Youth Network, displayed throughout the treatment campus in fun facts, albums and photo slideshows. Members of the community can give their "Legacy Story" of how they found Alexander and helped to put children first through a unique Facebook app built specifically for the 125th Anniversary Celebration. To learn more about Alexander's history and legacy of hope, visit http://www.alexanderyouthnetwork.org/125th-anniversary-legacy .
From eleven regional service locations, Alexander Youth Network serves children and their families from across the state with a complete continuum of quality services including: a Psychiatric Residential Treatment Facility, Day Treatment, Therapeutic Foster Care, Multidimensional Treatment Foster Care, Multi-Systemic Therapy, Intensive In-Home, Outpatient Services, and Medication Management. The Relatives is an affiliate organization that helps at-risk, homeless, and aging-out youth. Alexander Youth Network is a flagship program of the Neurosequential Model of Therapeutics™ for addressing the clinical approach to trauma-focused therapies, and it has brought nine best-practice and evidence-based therapies to surrounding communities. For more information about Alexander Youth Network, visit http://www.alexanderyouthnetwork.org.