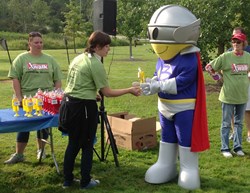 Altamonte Springs, FL (PRWEB) August 22, 2013
BioPlus Specialty Pharmacy (BioPlus), one of the nation's leading specialty pharmacies, participated as one of the sponsors of the Northern Ohio Hemophilia Foundation's Hemophilia Walk and Red Derby Run on Saturday, August 17, 2013 in Sunny Lake Park, Aurora, Ohio. BioPlus offers ongoing commitment to a variety of causes which promote better treatments and cures for complex diseases and proudly lent its support to this year's Hemophilia Walk.
The Hemophilia Walk brought families together for support and connection while raising money for the chapter. With 450 walkers participating, the day raised $55,000 for the benefit of the Northern Ohio Hemophilia Foundation and the National Hemophilia Foundation.
"Here at BioPlus, we have a long history and deep connection to helping people with bleeding disorders, which is why we loved jumping in to make this Hemophilia Walk a success," shares Cathleen Lombardo, General Manager of Bleeding Disorders for BioPlus. "Our costumed hemophilia mascot, BioBoy, was especially well-received by the children at the event as he spent the day visiting with the participants and then presented the Walk's awards."
In addition to the Walk, there was a Superhero Run in which participants donned masks, capes, or even just themed t-shirts. BioPlus' mascot, BioBoy, fit in perfectly with the superhero theme of the day. To add to the festivities, BioPlus volunteers ran carnival games for families to enjoy while also hosting face painting and temporary tattoo booths.
Currently, there is no cure for hemophilia and related bleeding disorders, while the lifelong treatment can reach more than $150,000 each year. For more information about the Northern Ohio Hemophilia Foundation, go to http://www.nohf.org.
About BioPlus Specialty Pharmacy
BioPlus is a pharmacist-owned, national specialty infusion pharmacy providing high-touch services and specialty pharmaceuticals for bleeding disorders, cancer, hepatitis C, immune deficiencies, neuromuscular disorders, and other complex, chronic conditions. BioPlus is licensed in all 50 states and accredited by URAC, VIPPS, and Accreditation Commission for Health Care (ACHC). BioPlus is one of the nation's largest independent specialty pharmacies; patients can contact the pharmacy toll free at 1-888-514-8082.
For information: http://www.bioplusrx.com or
Contact: info(at)bioplusrx(dot)com
Phone: 1-888-292-0744