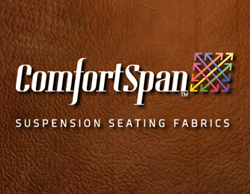 On top of the design characteristics, you cannot argue with the weight savings of using these products. Initial testing and research has been able to save between 8 to 10 pounds per seat for any given application. When you're talking about a passenger jet-
Bloomfield Hills, MI (PRWEB) August 24, 2013
The Acme Group of companies has been granted a provisional patent on its latest suspension fabrics. "ComfortSpan Karma, UX and VX have distinguished themselves again as serious product innovations," said Matt Utley, Director of Sales for Acme. "Already we have seen an explosion of interest from aviation companies wanting to save weight in passenger service planes, furniture manufacturers, and more markets are uncovering themselves every day."
Suspension fabrics have been around for years, and allow designers tremendous benefits in weight savings, comfort, durability and space savings over similar seating designs constructed with springs and foam. By eliminating the springs, foam, clips and other bulky attachment mechanisms, Acme has shown the industry incredible weight savings by changing their designs to ones based on suspension fabrics. Our suspension seating fabrics appear in high end airline seating, furniture distributed globally and automotive seating worldwide.
"We listened to our customers, and gave them solutions," added James Colman, CEO of the Acme Group. "Our European operations noted they wanted less or no foam in their seats. Airline seat manufacturers wanted space savings and comfort. Auto companies wanted weight savings and designability. Our ComfortSpan products now fill all these needs."
Acme's ComfortSpan line of products consists of: ComfortSpan UX - a polyurethane coated suspension fabric, ComfortSpan VX - a PVC coated suspension fabric, and ComfortSpan Karma - which has a soft, flocked, micro suede-like texture to it. ComfortSpan UX and VX can be coated with any texture or color allowing designers amazing flexibility with all of the benefits of the suspension fabric.
"On top of the design characteristics, you cannot argue with the weight savings of using these products. Initial testing and research has been able to save between 8 to 10 pounds per seat for any given application. When you're talking about a passenger jet of 290 seats, multiplying that by 10 pounds per seat, it's a tremendous weight savings," added Utley.
About Acme Group
Founded in 1917 as a textile supplier to Ford Motor Company for the Model T, the Acme Group has been creating creative textile solutions for their clients for 96 years. The Acme Group is a unique provider of industrial fabrics, textile services and filtration solutions. The array of companies consists of four divisions - Acme Mills, Fairway Products, Great Lakes Filters, and our minority owned business partner – Ervins Group. Collectively, these companies develop, manufacture, customize and distribute textiles and fabrics for a wide range of industries and applications. For more information, please visit them on the web at acmemills.com.