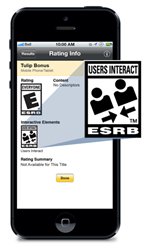 New York, NY (PRWEB) August 22, 2013
ESRB, the non-profit organization that rates video games, recently expanded its rating system to address "interactive elements" associated with digital games and apps, such as the sharing of personal information, sharing location with others, or the ability for users to interact, communicate or share media like photos. For many parents, these types of elements are a growing concern as more and more kids are playing games on mobile devices. In fact, according to Pew Internet, nearly 80% of today's teens (age 12 to 17) have a mobile phone – almost half of which are smartphones – and games are by far the top category of apps.
To help inform parents in picking the right games and apps for their families, ESRB has released an update of its free mobile rating app. Available for iOS, Android, and Windows phones, the updated ESRB Rating Search App now features:

Interactive Elements icons for digitally delivered games and apps so parents can easily identify if the game "Shares Location," "Shares Info," or if "Users Interact"
Expanded search filters for finding games by a specific rating, content type, or platform
Access to Rating Summaries for packaged games, which provide a detailed, straightforward explanation – including specific examples – of the content that factored into a game's rating
A brand new version designed for iPad and Android tablets
ESRB rating information for more 30,000 video games and apps – easily accessible right at your fingertips.
About Entertainment Software Rating Board (ESRB)
The ESRB is a non-profit, self-regulatory body that assigns age and content ratings for video games and mobile applications so parents can make informed choices. As part of its self-regulatory role for the video game industry the ESRB also enforces industry-adopted advertising guidelines and helps to ensure responsible online privacy practices under its ESRB Privacy Certified program. For more information, visit esrb.org, ESRB's Facebook page, and follow on Twitter @OKtoPlay.