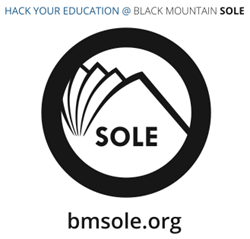 Just as we believe learning and curiosity is natural when an individual is empowered, we believe the desire to reciprocate generosity is natural
Black Mountain, NC (PRWEB) August 23, 2013
Black Mountain SOLE, the world's first "self-organized learning environment" (SOLE) for higher education and beyond, is busting through the status quo once again announcing the launch of their Pay It Forward Fund. This fund will make it easier for those who want to be part of pioneering this powerful experiment in learning and living together but are unable because of financial reasons to have part or all of their expenses covered.
Black Mountain SOLE first broke with the status quo when they announced their model for higher education and beyond. Black Mountain SOLE is primarily comprised of self-directed programs that support participants in exploring their unique areas of interest and pursuing their passions within a community of similarly passionate, motivated people.
Paying it forward is the idea of repaying support (financial, emotional, educational, and many other forms of backing) not by repaying your original contributor, but instead by opening up future opportunities for others. Katie Cleary, Community Director at Black Mountain SOLE, explains "Just as we believe learning and curiosity is natural when an individual is empowered, we believe the desire to reciprocate generosity is natural "
"We are excited to have received a pledge of $50,000 from an anonymous donor to start this fund," said Black Mountain SOLE Executive Director David Dobias," and have a pledge to match up to an additional $50,000 in contributions made to this fund by others over the next two months."
"We've all experienced the joy of giving something without the expectation of a return," Dobias explained. "Black Mountain SOLE itself was started in part from a desire to give to others because of our own experiences of having people give to us and mentor us, without expecting to receive anything in return.
"We're committed to providing tremendous value to our participants, and we are confident that those who receive this value will help us continue providing our services to others by paying it forward."
Anyone applying to participate for one of Black Mountain SOLE's in-residence offerings can also apply for the Pay It Forward Fund .
Black Mountain SOLE currently has two in-residence offerings. The first, beginning in September 2013, is Geronimo Gap Year, a nine-month experiential learning program designed to fill in the gaps left by traditional schooling. Students discover their passions, hone critical life skills, and execute their own real-world project with the help of personal mentors.
The second, DIY Co-Learning/Co-Working, is for people wanting less structure in pursuing their learning path, whether that path is more academically-oriented or is built around an actual project or business. Participants have access to workspace (shared or dedicated), meeting space, coaches, mentors, and other learning resources.
Located at the Blue Ridge Assembly, the same resort-based campus that the historic Black Mountain College occupied 50 years ago, Black Mountain SOLE also hosts workshops, presentations, conferences, field trips, performances, community gatherings, and service projects. It is developing a summer program specifically for high school students, with a first offering scheduled for the summer of 2014.
Black Mountain SOLE offers in-residence and commuter options. Resident packages include food, lodging, and access to all Blue Ridge Assembly facilities. Commuter packages include daytime access to the Blue Ridge Assembly facilities; meal passes can be purchased separately.
Access to the Black Mountain SOLE learning community is available remotely by posting individual profiles and projects, and by accessing online learning resources and opportunities.
For more information about Black Mountain SOLE, go to http://www.blackmountainsole.org. To apply go to http://www.bmsole.org/apply. Applications are accepted on a rolling basis.