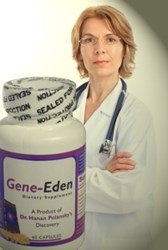 The CBCD suggests doctors make themselves aware of Gene-Eden-VIR, a proven and safe remedy that targets the latent HSV. - Center for the Biology of Chronic Disease (CBCD)
Rochester, NY (PRWEB) August 25, 2013
Tremors, visual and auditory hallucinations, confusion and coma, are neuropsychiatric side effects. All have been associated with the use of Valacyclovir (Valtrex). (2)
"Valacyclovir is an antiviral drug. It slows the growth and spread of the herpes virus so that the body can fight off the infection." (3) It is also the most popular drug prescribed against Genital Herpes infection due to its "ease of administration…." (1)
However, problems with brain function are just the tip of the iceberg. Drugs.com reports a laundry list of Valtrex side effects, including "Gastrointestinal side effects (that) have included nausea (up to 15% of users), abdominal pain (up to 11% of users), and vomiting (up to 6% of users). (4)
In light of the many potential side effects associated with Valtrex, the CBCD recommends that doctors familiarize themselves with Gene-Eden-VIR, a natural antiviral that targets the latent herpes virus. Valtrex is a chemical drug; while in contrast, Gene-Eden-VIR is a natural oral supplement that was recently tested in a post marketing clinical study.
In that study, Gene-Eden-VIR was shown to be safe and highly effective against the latent herpes viruses. Over 70% of Gene-Eden-VIR users reported a reduction in herpes symptoms. (5)
Gene-Eden-VIR is highly effective against the latent herpes viruses, each ingredient was chosen through a scientific approach. Scientists scanned thousands of scientific and medical papers published in various medical and scientific journals around the world to identify the safest, most effective natural ingredients that target the latent form of HSV. (6)
Finally, according to herpesnews.com, the cost of a month's supply of Valtrex (90 pills), one of the most common anti-herpes medications, is $1275 for the brand name at the CVS Pharmacy. (7) The cost of the generic brand is only slightly less. In contrast, a month's supply of Gene-Eden-VIR is $37.99. That's over a thousand dollars less than the cost of Valtrex, making Gene-Eden-VIR an effective, affordable alternative.
To learn more about Gene-Eden-VIR, visit http://www.gene-eden-kill-virus.com .
References:
(1) http://www.ncbi.nlm.nih.gov/pubmed/23528373
(2) http://jac.oxfordjournals.org/content/57/5/945.long
(3) http://www.drugs.com/valacyclovir.html
(4) http://www.drugs.com/sfx/valacyclovir-side-effects.html
(5) gene-eden-kill-virus.com/PP_Gene-Eden-VIR-is-Antiviral.pdf
(6) gene-eden-kill-virus.com/studies.php
(7) herpesnews.com/herpes-medications/price-comparison-between-valtrex-generic-valtrex-and-acyclovir-in-united-states/
###
The Center for the Biology of Chronic Disease (CBCD, http://www.cbcd.net) is a research center recognized by the IRS as a 501(c)(3) non-for-profit organization. The mission of the CBCD is to advance the research on the biology of chronic diseases, and to accelerate the discovery of treatments.
The CBCD published the "Purple" book by Dr. Hanan Polansky. The book presents Dr. Polansky's highly acclaimed scientific theory on the relationship between foreign DNA and the onset of chronic diseases. Dr. Polansky's book is available as a free download from the CBCD website.