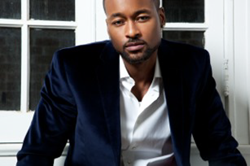 New Orleans, LA (PRWEB) August 22, 2013
R&B artist of Kado Records, TQ, is proud to announce the upcoming launch of his new website. Now live, fans can check out the new site here: http://therealtq.com.
With the freshly designed, new website, fans will find it easier to connect with TQ via social media and to get updates on what he has been doing, his upcoming appearances, find his music and shop in the store. There are also videos, including for the remix of Bad Man featuring The Young Mores. In the store, fans will find everything from music, downloads, t-shirts and bundles with special items.
TQ is also announcing an upcoming contest on http://www.gigg.com. Gigg.com is a website that allows users to find and share new music as well as for artists to share their music. The contest will involve the lyrics to TQ's music. Prizes will include signed merchandise, a trip to a New Orleans Saints game hosted by TQ, a one-of-a-kind low-rider bike and more.
Currently, TQ is in the process of putting together "The LIVE Movement Tour," which is fully administered by the fans in the cities they have asked for TQ to appear. The program puts fans in charge of finding venues, sponsors, linking TQ with promoters and other event planning projects. Right now, TQ is working on tour stops in Los Angeles, San Francisco, Mobile, New Orleans, Dublin, London and San Diego. The tour will begin in October and feature The Young Mores as TQ's opening act. Fans should check the new website, as tour dates will be announced soon.
About TQ:
Singer/songwriter/producer TQ hit the music scene in 1998 with a style that made him different than any other R&B singer on the market. A native of Compton, Calif. his swagger and delivery made some fans regard him with the same appeal as a rapper. In fact, he has been told that he reminds many of a "singing Tupac" with his realistic lyrics in songs that deal with real life issues. Now with more than 15 years in the business to his credit, TQ debuted his latest album Kind of Blue in March 2010 in the U.S. and Canada.
About the company:
Kado Records is a new Independent music label based in New Orleans, Louisiana. Owned and operated by Laura Zatezalo and Terrance Quaites aka "TQ", the label focuses on groundbreaking artists and projects that go against the grain of the current musical landscape. They specialize in the genres of Pop, R&B, Hip Hop, Alternative, and Rock music and are always looking for hot new artists and musicians to work with. In 2012, Kado plans to release projects from their artists including New Orleans based rapper K Gates, UK Dancehall Queen Lady Marga, and the brand new album "Legendary" from TQ himself.