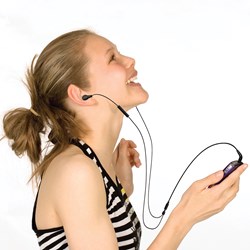 With ETY·Kids, students can listen at full volume on their portable players for up to four hours a day without risk.
Chicago, IL (PRWEB) August 26, 2013
This year, many schools will include earphones on their back-to-school supply list, and Etymotic Research, innovator of hearing wellness solutions, offers the best product anywhere for young ears. Their ETY·Kids® Safe-Listening Earphones, now in new colors, sound great, and are engineered to restrict maximum sound output delivered to the eardrum. By controlling the earphones themselves, it is not necessary to restrict the volume setting on the portable player. Sound coming through ETY·Kids earphones will never exceed safe levels, so teachers and parents can rest easy.
"Hearing loss is a real public health concern with approximately 17 percent of American adults reporting some hearing loss. And with the popularity of digital music players, we need to promote awareness of the potential risks to hearing," said Dr. Gail Gudmundsen, managing director of audiology at Etymotic Research. "We can provide peace of mind for teachers and parents who are unsure how much sound is too much. ETY·Kids promote safe listening. With ETY·Kids, students can listen at full volume on their portable players for up to four hours a day without risk. No other earphone company can make this claim."
The critically important part of this back-to-school story is the cumulative and irreversible effects of high noise levels on a child's hearing - like those in school band rooms and even on outdoor fields where marching bands play. The easiest solution for protecting a child's hearing is to send them to school with durable, re-usable high-fidelity ETYPlugs® earplugs from Etymotic. ETYPlugs reduce sound to safer levels without blocking it completely, so students can still hear band directors and others around them. Protecting a child's hearing health with ETYPlugs is one of the best values in healthcare.
About Etymotic
Etymotic is a research, development and manufacturing company that designs high-fidelity personal audio products and hearing wellness solutions to assess, enhance and protect hearing. For over 30 years, innovation and education have been central to Etymotic's mission. Etymotic is one of the most respected leaders in high-fidelity audio and hearing conservation.