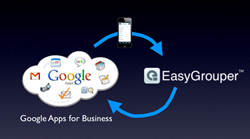 Google Apps for Business is a powerful tool, but pushing full employee contact information down to mobile devices is missing.
Ashburn, VA (PRWEB) August 22, 2013
EasyGrouper(TM) announces that its mobile communications system can now be integrated with Google Apps for Business, bringing an added feature to the popular platform. Over five million people use Google Apps for Business to run their daily operations with a wealth of business applications that include mail, calendar, storage, word processing, spreadsheets and presentation software. Now, those users can seamlessly link up an EasyGrouper account, giving them the ability to automatically share complete employee contact information – an important communications function that is missing from Google Apps for Business.
"Google Apps for Business is a powerful tool for productivity and collaboration, but pushing full employee contact information down to mobile devices is missing," says David Alison, EasyGrouper. "Being able to contact fellow employees on their mobile device, whether via text, email or voice, is seamless for Google Apps for Business users with EasyGrouper. And after all, this is the way we communicate today."
While Google Apps has a centrally maintained employee directory, it only contains names and email addresses for each member of the account. Each Google Apps for Business user is responsible for collecting and updating the phone numbers for each employee they want to contact by voice or text.
EasyGrouperTM fills that gap by providing free applications for iPhone and Android that can be installed on an employee's personal device. Within that application a company can keep an automatically updated corporate directory, public and private groups for sending emails, important reference information every employee should have on their phone and dynamically updated statuses to let people know at a glance where someone is.
If an employee wants to provide additional ways to contact them, they can control their entry in the corporate directory by editing it on their phone. Once saved, the updated contact information is automatically pushed down to everyone's phones.
EasyGrouper also adds a powerful alert system. Designated people within the account can send out an alert as a text message or email to everyone in a group, office location or the entire account very quickly. This is a great resource for informing people about critical problems, incoming weather events, etc.
About EasyGrouper
EasyGrouper, LLC is a new startup company funded by IT Cadre. EasyGrouper is a communications platform designed to let a company leverage the technology employees already own: their smartphones. Go to http://www.EasyGrouper.com to learn more about this new product. For a brief synopsis of what EasyGrouper can do, please see this video.