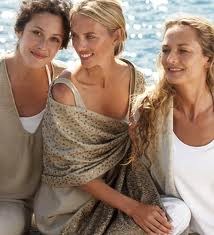 Boomer women have bucks. Lots and lots of bucks. So the question remains: why are marketers ignoring them?
Newport Beach, CA (PRWEB) August 22, 2013
Boomer women control more than half of the nation's discretionary income and three-fourths of the country's financial wealth. The youngest of these super consumers are turning 50 this year, and over the next two decades their ranks will swell with the force of a tsunami. So why do marketers continue to ignore them?
That is the subject of the white paper Boomer Women: The Invisible Goldmine released today by Girlpower Marketing, a public relations and marketing consultancy that helps brands build relationships with women.
Download the free white paper.
"Today's Boomer women are vibrant and young. They are much more media savvy and financially independent than their predecessors. Yet 91% percent of Boomer women surveyed feel that marketers do not understand them," notes Linda Landers, founder and CEO of Girlpower Marketing. "The primary problem is that marketers believe these consumers are no longer relevant, and are locked into brands that they fell in love with decades ago. That is simply not true. In fact, research shows that these women are just as likely to switch brands as their children."
In a recent survey conducted by Girlpower Marketing, 53 percent of those Boomer women surveyed said they felt overlooked by product advertising due to their age. In addition, 64.2 percent admitted to saying goodbye to a product because they felt they were being ignored by the brand. Brands that respondents felt have done a good job speaking to them include Eileen Fisher, Dove, L'Oreal, Cadillac, Olay, Amazon, Target and Avon.
In addition to discussing the importance of this demographic, the white paper also provides further details on the survey, and tips on successfully connecting with these power consumers.
"The days of Boomer women being ignored by marketers are numbered," says Landers. "More than any generation before, these women know their own power and won't be marketed to in a disingenuous way. Trillions of dollars are at stake as marketers begin to discover the unexpected consumer gold mine that these women are."
About Girlpower Marketing
Girlpower Marketing is a public relations and marketing consultancy that specializes in understanding the diverse segments of the women's market and how to effectively reach them.
Founded in 2007, the company provides a broad spectrum of services, including strategic planning and brand positioning, influencer marketing, social media and blogger outreach, media relations, product launches and special events.
Like Girlpower Marketing on Facebook, follow the company on Twitter or read the blog for more information on marketing to women.